Julie Hoornweg: Wales netball appoint Australian as interim coach
Last updated on .From the section Wales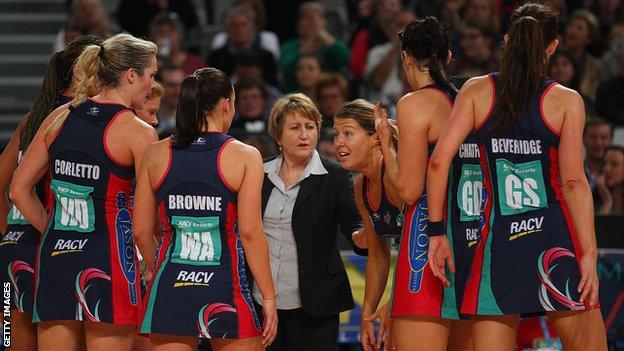 Australian Julie Hoornweg has been appointed as Wales and Celtic Dragons interim head coach.
The former England and Fiji coach will lead Wales at the Commonwealth Games in April and the Dragons for the rest of the Superleague season before returning to Australia at the end of the season.
"I only tend to do short term type things these days but I just love coaching," said Hoornweg.
"I had over six months off so I kind of felt like 'oh I do enjoy it' and I knew they have not had some good experiences so I thought 'well someone had shared knowledge with me once and I need to be sharing my knowledge'.
"The stronger we grow around the world in netball the better our game will be. So I hopped on that plane and flew over."
Welsh Netball chief executive Sarah Jones says Hoornweg "has an exceptional track record".
Hoornweg became Fiji national coach in 1997 before taking charge of England three years later.
She spent several successful seasons with Melbourne Vixens, leading the franchise to a league title and two grand finals in Australia and New Zealand's elite competition.
Hoornweg also worked as the inaugural head coach of new Auckland-based franchise, Northern Stars.
"Her range of experience across the netball world will be hugely beneficial to our players in both the Superleague season and the Commonwealth Games," said Jones.
"Julie's appointment is interim and we are happy Julie was able to commit to Wales and Celtic Dragons at short notice."