Commonwealth Games: Gold Coast medal would top Greene's lot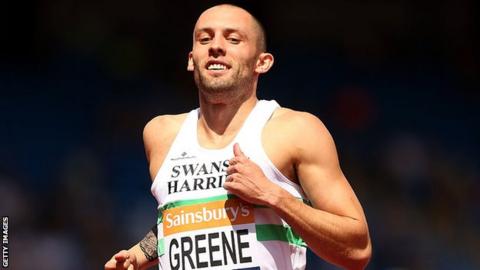 Hurdler Dai Greene says winning a medal at this April's Commonwealth Games in Australia would mean more to him than any previous achievement.
Greene held World, European and Commonwealth 400m hurdles titles in 2011, but has suffered injuries since.
On Tuesday he beat the Commonwealth qualifying time of 49.50 seconds by one-hundredth of a second, having completed one race since June 2016.
"Anything I achieve now will be worth more to me emotionally," said Greene.
He needed to run 49.50 seconds by Sunday, 4 March and shed tears of joy after booking his place on Team Wales for April's Games by running 49.49s in a 400m hurdles race in Potchefstroom, South Africa.
He told BBC Sport Wales: "Anything I achieve going forward from now has been infinitely harder to achieve [than his success from 2009-2011] given the time not running, which I think was about nine months in total, and all the injuries, the hassle, the problems.
"I don't even know if everybody who was working with me truly believed I'd get back and be competing and training with these sort of times again.
"When I crossed the line it said 49.50 on the clock. I know it can sometimes be rounded up or rounded down depending on what part of your body breaks the beam.
'A little bit overwhelmed'
"So my initial reaction was 'I hope it's not rounded up', because I'd miss out by one-hundredth of a second.
"Then when it got announced in the stadium it was under I was super happy and a little bit overwhelmed.
"I rang my dad and rang my coach and they were getting a bit emotional because they've been on this journey with me. Then it started to sink in."
Greene said this achievement was a "big step back to where I want to be".
He also tweeted: "I've only ever been in tears after three races., the 2010 Euros, the 2012 Olympics and today.
"That's what this means to me. Big step in my journey back to where I want to be."
The Swansea Harrier had failed to complete a race between June 2016 and earlier this month when he ran 50.08s in South Africa.
'Almost a fairytale'
The Commonwealth Games Council for Wales has yet to officially ratify Greene's selection but that should be rubber-stamped in the coming days given he had been provisionally named in the squad before running the qualifying time.
Welsh Athletics head of performance Scott Simpson said: "This story in itself is almost a fairytale.
"Very often it doesn't play out, but in this situation it has.
"The guy has had a really tough journey since 2012 and a lot of people had lost faith in him and I'm so pleased it's played out for him.
"The feel-good factor will resonate throughout the whole team."
'I can go a bit faster'
The 2018 Commonwealth Games begin on 4 April and Greene is aiming high.
He said: "I'd have been disappointed if I hadn't have made the time because my training suggests I can go a bit faster.
"I knew I had it in me somewhere, I just had to get it out before the time was up on Monday."
"Your mindset changes pretty quickly. I've been training the last few months for going to the Commonwealths.
"Now that I've taken that step it's up to me to make sure I'm in that final and do the best I can.
"I like to think I can go faster than what I did last night after another six weeks of training. The training camp over here has gone well and I'm responding well to the good weather.
"So if things keep going as they are, I like to think I can make the final. That's the target I've set myself. And then who knows."