Challenge Cup final: Todd Kelman 'delighted' to be facing Belfast
Last updated on .From the section Wales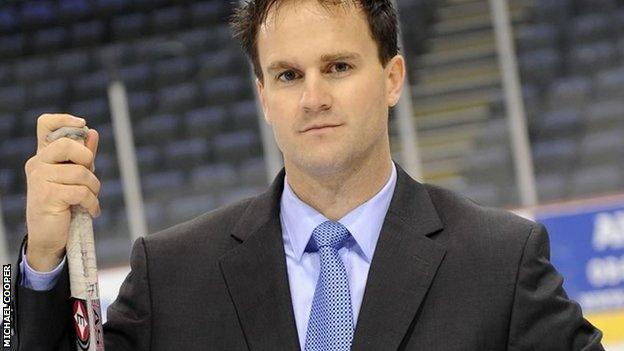 Cardiff Devils general manager Todd Kelman says he is delighted Belfast are their Challenge Cup final opponents.
Canadian Kelman, 43, spent seven seasons playing for Belfast Giants and a further three as the general manager before switching to the Devils.
"It's obviously going to be interesting on Sunday and I'm delighted we're playing Belfast in the final," he said.
Cardiff Devils welcome Belfast Giants to the Ice Arena Wales on 4 March for the final.
Kelman admits Belfast is a club he still has affection for, but not when they come head to head with the Devils, which he joined in 2014.
"All season long, I feel we've been the two best teams, although Manchester have pushed ahead of the Giants.
"From Christmas onwards, it's seemed like a real push for the Conference between us.
"For me, the right two teams got there [to the final] and we made life difficult for ourselves in the semi-final, but we're there and it'll be interesting for me coming up against my old club.
"A lot of people assume you want the worst for your old club after you leave them, but I'm of the position that if we don't win the league, then I'd want Belfast to win it above anyone else."
Despite Kelman's close relationship with Belfast, the now Devils general manager said he still wants to win as much silverware as possible this season.
"Looking ahead to Sunday, I never like to predict things. This cup is very important to us and I was recently asked if I would be happy to take the league and lose the Challenge Cup," said Kelman.
"I said no, I want both and as a club we want them all. That's the mentality of winning."
Challenge Cup recollections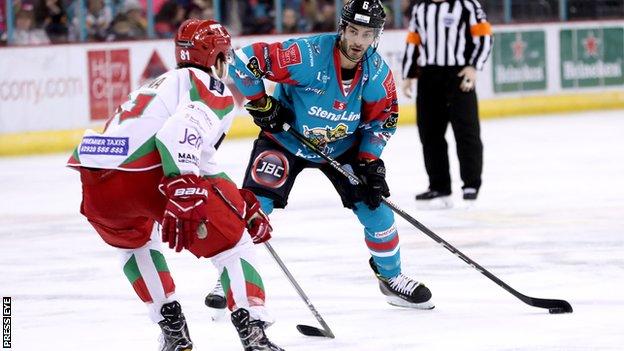 Kelman was Belfast's general manager during their only Challenge Cup success to date, in 2009, when they defeated Manchester Phoenix over two legs.
Recalling the day, Kelman said: "My recollections of 2009 are of my player-coach, Steve Thornton, with his arm hanging off, wearing a cast.
"He basically played with a broken wrist against a Tony Hand-led Manchester Phoenix.
"I actually spoke with Steve Thornton when we both reached the final this year about the game and our recollections of it.
"Mike Burgoyne checked Tony Hand and went on to score the winner in what was a very dramatic day."
Thornton said: "Cardiff have a great team so it's going to be a tough one... two good teams are going head to head and I expect both teams to bring their 'A' game.
"When it comes down to games like this, it can come down to special teams, goaltending and some puck luck and I hope it comes down for Belfast Giants."