Sailing champion Hannah Mills to go for gold in Tokyo 2020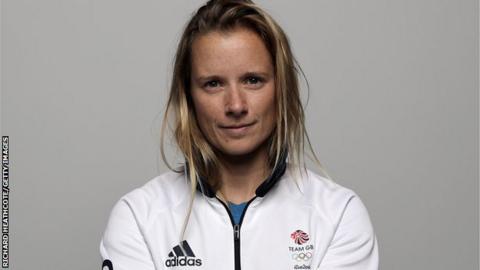 Olympic sailing champion Hannah Mills has announced she will be going for gold again in Tokyo 2020.
The 30-year-old from Cardiff won silver in London and gold in Rio with Saskia Clark in the 470 dinghy.
She said she had taken "a long time to decide" whether or not to enter into another Olympic campaign.
But she said she wants to be the "most successful female Olympic sailor of all time".
Writing in her blog, Mills said several things had been "spinning around my head", including which boat to sail, whether she has the motivation to compete in another games and who will be her new partner following the retirement of Clark.
"This is not something I wanted to jump back into because it was the easy thing to do," said Mills, "heading out into the big wide world and getting a job is scary, and something I will certainly have to face at some point".
But she said this is not her reason for returning to the sport.
"Brainstorming, understanding myself, my motivations, my passions and my happiness has led me back to sailing again," added Mills.
"I am at my most happy and fulfilled when I am feeling driven, committed, motivated, achieving, empowering others, creating change, responsible and making a difference."
Mills, who shifted classes last year to the 49er FX, has announced she will return to the 470 dinghy in Tokyo 2020, with partner Ellidh McIntyre.
Mills said McIntyre "has an awesome work ethic" and "brings a lot of motivation, youth and skill to the campaign".
"I have no doubt we will be able to create a formidable team leading up to Tokyo," she said.