Cardiff Half Marathon 2018: Jack Rayner wins inaugural Commonwealth Championships
Last updated on .From the section Wales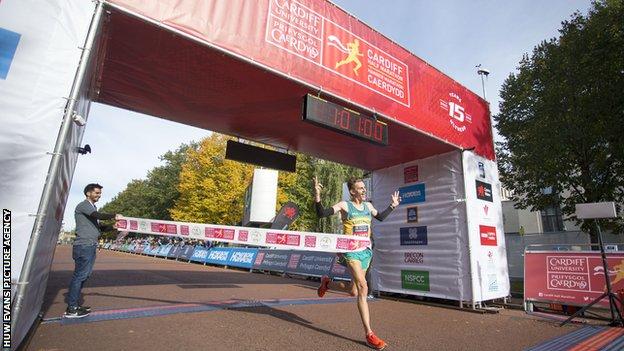 Australian Jack Rayner won the 2018 Cardiff Half Marathon and inaugural Commonwealth Half Marathon Championships on Sunday.
Rayner, 22, finished in a personal best time of 1:01:01, shy of the course record of 1:00:43 set last year by Kenyan John Lotiang.
Uganda's Juliet Chekwel, 28, won the women's race in 1:09:45.
The men's wheelchair race saw York-based South African Tiaan Bosch, 38, finish first in 55:22.
"It was a bit into the deep end there," said Rayner.
"I just tried to run in the front pack of Ugandans. I think the whole team of four was there and one Kenyan, and I just stuck in.
"We went through 10k in like 28:40-something and I thought: 'Jeez, this is going to be tough.' But I just stuck on as long as I could and tried to get to that final kilometre, because I've got a bit of a kick.
"I just unleashed in that last little bit and got the better of them."
Fred Musobo was second, with fellow Ugandan Timothy Toroitch third, while there was more success for Australia in the women's race with Celia Sullohern the runner-up ahead of Doreen Chesang of Uganda.
Dewi Griffiths was again the best of the male Welsh athletes, finishing ninth in 1:02:54 to show he is getting back to his best after a stress fracture to his hip that ruled the 27-year-old out of the 2018 Commonwealth Games on Australia's Gold Coast.
"It was fantastic for Cardiff and there was the extra incentive of competing in an international vest and representing your country," said Griffiths.
"I was tired at one point but you can't let Wales down.
"I would have loved to have been more competitive out there but it is great for Cardiff to have such a race."