British weightlifters achieve Olympic B standards at test event
Last updated on .From the section Weightlifting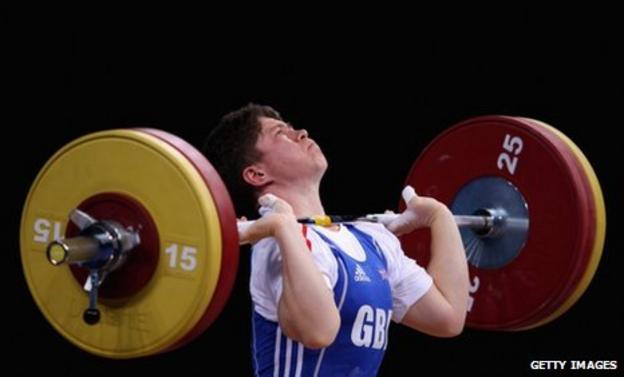 British weightlifters Peter Kirkbride and Natasha Perdue both achieved the Olympic qualifying B standard at the Olympic test event at the ExCeL Centre.
Kirkbride lifted 135kg in the snatch and 185kg in the clean and jerk to finish with a combined total of 320kg in the 94kg event.
Perdue registered lifts of 87kg and 110kg to record a total of 197kg in the women's 69kg category.
But 2012 prospect Zoe Smith was forced to pull out with a back injury.
Kirkbride, who was returning to competition after missing last month's World Championships bacause of an ankle injury, became the fourth GB athlete to meet the Olympic B standard.
It is the second time Wales' Perdue has been inside the B standard, having first achieved it at the World Championships in Paris - along with Smith and Jack Oliver.
"It's pure, dead brilliant," said Kirkbride, from Scotland. "It's great to be back in action as part of the GB team again, having missed a major championship through injury."
In the same category, 17-year-old Sonny Webster from England broke British Under-18 and Under-17 records.
"I'm happy to keeping chipping away at the Olympic B standard," he said. "Getting within 15kg makes me want it so much more."
Great Britain head coach Tamas Feher hailed the experience his squad gained ahead of London 2012.
"I would have wanted Zoe to be here to experience all this, the atmosphere, seeing Natasha, Peter and Sonny supported by hundreds of people," he said.
"Imagine several thousand people in London next year, most of them British, most of them crazy for these British athletes.
"For these athletes it is a new thing, imagine thousands of people shouting for them, live on television with hundreds of millions of people watching.
"How to perform without your hands shaking, this is the only way to learn how to compete in the competitions. This kind of experience is gold to us."
Three Olympic spots are available for GB men and two for women. Lifters have until the end of May to record two successful totals during competition at either the A or B standard of Olympic qualification.