Natasha Perdue looking for Olympic lift in Turkey
Last updated on .From the section Weightlifting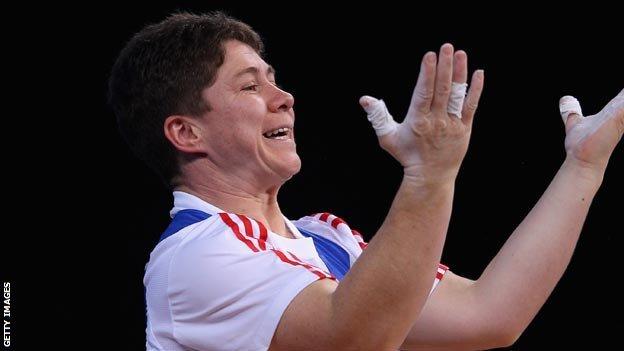 Three Welsh weightlifters are heading to the European Championships in Turkey hoping to qualify for London 2012.
Natasha Perdue, Gareth Evans and Darius Jokarzadeh will all represent Great Britain in Antalya.
To be considered for London 2012, the 'A' or 'B' standards need to be lifted at either the European Championships, or the British Championships in May.
Perdue, from Swansea, will compete in the women's 69kg class. She has met the 'B' standard twice.
But she will be looking for automatic selection for the Olympics by achieving the A standard.
Evans, another 69kg class lifter, will hope to show the form that saw him just fall short of making an 'A' standard recently.
Evans, from Anglessey, recently lifted 276kg and will be hoping to at least surpass the 'B' standard total of 267kg again.
Jokarzadeh, a 6ft 7in and 24st lifter from Cardiff, is one of the youngest lifters in the senior competition.
With less than two years in the sport, the rapid rise of the 18 year-old sees him competing in the 105+ kg class and with a hope that he can add weight to put him in the frame for the Olympics.
Jokarzadeh will be hoping for his first competitive 'B' standard total of 361kg - his current competitive best is 321kgs. The 'A' standard would be a huge jump in weight to 383kgs.
The son of an Iranian father he was born in Cardiff and is a fluent Welsh-speaker after being educated at the city's Glantaf school.
"I did a bit of discuss and boxing when I was younger but then I was spotted by a rowing coach through a talent ID programme just before I was 16," said Darius.
"Around the same time I started doing some weight training at the (Sport Wales) national centre in Sophia Gardens.
"I enjoyed it but the trouble was I was growing. One day I got in the boat and it sank.
"The coach told me I would better suited to another sport. I knew I wasn't going to have the size to be a rower so I was introduced to one of the coaches at Welsh Weightlifting.
"That was about two years ago and things have moved on pretty quickly since then."