London 2012: GB weightlifters aim for Olympic standard at Euros
By Nick Hope
BBC Olympic sports reporter
Last updated on .From the section Olympics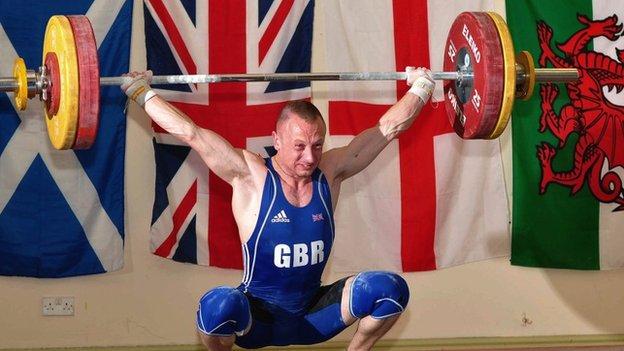 Great Britain's weightlifting squad say they are confident of attaining Olympic qualifying lifts at the European Championships in Turkey this week.
Commonwealth medallists Zoe Smith and Peter Kirkbride form part of the 12-strong GB team, which includes Wales' Gareth Evans, who recently achieved the Olympic 'A' standard in training.
"It's given me massive confidence," Evans told BBC Sport.
"I made personal bests this year and knew I could make more improvements."
"I didn't think it would come this quickly though, it really takes the pressure off because I don't have to go into the competition needing a personal best total to get the lift."
The 25-year-old, who is a painter and decorator by trade, has given up more than most in his pursuit of Olympic qualification.
Since leaving his home in Holyhead, North Wales for the GB high performance centre in Leeds last year, Evans sees his three-year-old daughter Lexi and partner Rachel only a few times a month.
"Since July last year I've sacrificed being around friends, my family and my job and it would make it all worthwhile if I could go that step further and make the Games," said Evans.
As host nation Great Britain is guaranteed five places for athletes (three male and two female) at London 2012.
Two Olympic 'A' standard lifts are required to guarantee an athlete qualification, but no British athletes managed this at the first opportunity, which was the World Championships in November last year.
The European Championships is the first opportunity to get the 'B' standard, which will be considered by a selection panel in May, if five athletes do not attain lifts at the higher level.
Smith, Jack Oliver and Natasha Perdue all attained the lower level lifts at the 2011 Worlds, but as these did not count towards Olympic qualification, the Europeans will be crucial to their hopes.
"I'm really looking forward to it," said Perdue.
"The Worlds weren't great for me, but getting up on the platform again for Great Britain will be fantastic and if I can do out in Germany or the British what I've been doing in training, then London 2012, why not?"
Smith meanwhile, who after an argument over her training regime in December 2010 joined the GB setup full-time last summer, has since returned to the capital to rejoin former coach Andy Callard.
The self-proclaimed 'chocoholic' has endured what she's described as a "horrible" few months as she has attempted to lose five kilograms in order to compete in the -58kg division.
"Easter eggs are on hold until after the weigh-in on Wednesday," admitted Smith.
It is believed the teenager will have a greater chance of a medal at London 2012 in the lighter category and team manager Fiona Lothian is pleased with the progress Smith is making.
"She is back into consistent training, injury-free and she set a new PB in the clean and jerk recently so it's looking good going into the Europeans," Lothian told BBC Sport.
"It's quite a different environment here to being in a club environment. It's a slightly more intense programme here and for a young athlete that perhaps brings different stresses. Some athletes respond really well to it, but others respond better to being at home."
Lothian is also pleased with the progress the British squad has made, less than four months away from the Olympic Games.
"There's been a big step forward since the Worlds, people are in a consistent programme now and are settled after moving from different parts of the country," she said.
"They are starting to put more pressure on one another, which is great, because we want some difficult decisions to make," said Lothian.