London 2012: GB weightlifter Zoe Smith closes in on Olympic place
By Nick Hope
BBC Olympic sports reporter
Last updated on .From the section Olympics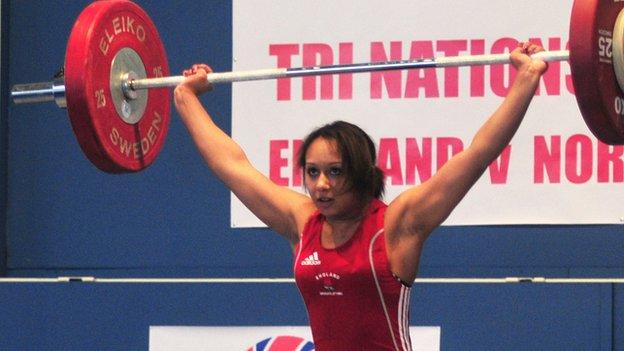 Commonwealth bronze medallist Zoe Smith is one step closer to qualifying for London 2012 after attaining the Olympic 'A' standard at the European Championships in Turkey.
Smith, 17, totalled 208kg, beating her personal best by four kilograms, but narrowly missed out on a podium finish.
"I'm over the moon to have smashed the 'A' standard," Smith told BBC Sport.
"It would have been nice to finish in the medal positions, but fourth in an Olympic year is amazing.
"I felt strangely relaxed today," continued Smith.
"I took quite a laid-back approach because I've been lifting really well in the gym and to demonstrate that on the platform was great."
The Londoner has competed in the -63kg division for the last two years, but undertook an intense weight-loss programme to reach the -58kg class for the European Championships.
British Weightlifting believe the lighter division offers Smith a better prospect of a medal but the teenager herself admits it has not been easy.
"Even as close as Monday I was in real doubt about whether I was going to make the weight," said Smith.
"It's been really hard, especially over Easter where chocolate has been everywhere, but our nutritionist is incredible and managed to get me down to where I need to be.
"Still, getting onto the scales today and literally being 0.6 under was quite scary!"
Smith who recently returned to London after leaving the British Weightlifting high-performance centre in Leeds, admitted that having her mum Niki around had played an important role in helping achieve the -58kg goal.
"My mum is a real slave driver in the house because she does all of the cooking so I can't stray from the diet too much.
"She's also there in the evenings, watching to make sure I'm not eating something bad, which has helped quite a lot."
British Weightlifting's performance manager Fiona Lothian was delighted with Smith's performance and hopes that her lifts can inspire other GB athletes at the European Championships - the first event where athletes can attain 'A' standard qualifying lifts for London 2012.
"I think it gives the lads lifting later in the week that belief that the 'A' standard is possible and it also just sets Zoe up nicely so she can prepare through to the British Championships and the Olympics after that," Lothian told BBC Sport.
"If she can improve the total a little bit more before we get into the Games, that should be enough to get her into an A-final and once she's there, anything can happen."
Smith, whose total of 208kg was just three kilograms short of bronze and seven away from winner Boyanka Kostova, will now look to confirm her place at London 2012 at the british Championships in May.
"It is looking pretty good, I am feeling pretty confident. At the last few major competitions I've done I have been quite consistent and ahead of the Games that's exactly what I need," Smith told BBC Sport.
"The A-final is definitely the main aim, especially as a lot of my friends and family seem to have tickets for it - so hopefully I'll be there!"