Olympic weightlifting: Natasha Perdue ready to make family proud
Last updated on .From the section Weightlifting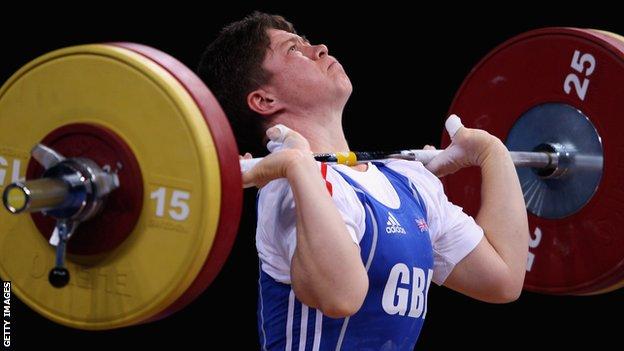 Weightlifter Natasha Perdue is determined to do her family tradition proud when she competes at London 2012.
The Swansea-born lifter's late father, Terry, competed at the 1968 and 1972 Olympics, while her brother, also called Terry, went to three Commonwealth Games with Wales.
Now Perdue, the British champion and world number 22, is preparing for her Olympic debut at the age of 37.
"As long as I make my family proud and the nation proud," she said.
Perdue, who has competed at two Commonwealth Games, will compete in the 69kg category at the ExCel stadium on Wednesday.
The refuse collector, who now lives in Leeds, was inspired to be a weightlifter by her late father, who finished 10th at the Mexico and Munich Olympic Games and won silver and bronze medals at the Commonwealth Games.
She admits the biggest challenge on the Olympic stage will be to keep the emotions in check as she follows in her father's footsteps.
"I have experienced being too emotional and thinking too much about my family and I turned out to be a disaster in the competition," said Perdue.
"Hopefully, I have learnt from that and I will just get out there and do what I can do.
"Obviously, I am going to think about my family all the time and a can't help that, but it's about managing that."
Perdue has come a long way from her days of lifting in a shed or garage to becoming Britain's top lifter in the 69kg category.
A medal is unrealistic, she says, but she hopes a new personal best is within her reach - provided she maintains her focus.
"I can get over-excited and emotional and then get to competition day and I am like a wet lettuce leaf," she said.
"I am physically prepared, otherwise I wouldn't be here, but it's about getting it right mentally.
"I hope I don't become a rabbit caught in the headlights and freeze."
Wales' other member of the GB weightlifting team, Gareth Evans, broke one Welsh record and equalled another in his event on Tuesday.