British Championships: Sonny Webster wins, Zoe Smith absent
Last updated on .From the section Weightlifting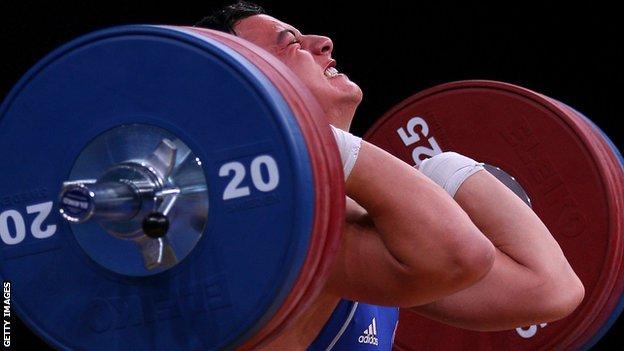 Sonny Webster was in impressive form as he won the men's 94kg class at the British Championships.
The Bristol-based lifter broke the British Under-20 clean and jerk and total records as he won with 317kg.
The withdrawal of several big names through injury, including Olympian Zoe Smith, led to a new generation of champions being crowned in Bangor.
Only Christos Michaelas (men's 69kg), Ben Watson (men's 105kg) and Jo Calvino (women's 53kg) retained their titles.
Calvino, 32, became British champion for the 18th time with a total lift of 151kg, which would also have won the 58kg and 63kg categories.
British Weight Lifting Performance Director Tommy Yule said: "A number of lifters have put themselves in a position to be selected for the World Championships, from performances at both the British Championships and earlier in the year."
Commonwealth bronze medallist Smith, 19, wrote on Twitter her injury was "hopefully nothing serious" and she "should be fit to compete soon".
Yule added: "Injuries are a part of elite sport and it is one of our objectives to support the lifter with injury risk-management."
Men's British champions:
56kg: Louis Hampton; 62kg: Christos Michaelas; 69kg: Mehmed Fikretov; 77kg: Adam Mattiussi; 85kg: Jack Oliver; 94kg: Sonny Webster; 105kg: Ben Watson; Over 105kg: Andrew Ruegg.
Women's British champions:
48kg: Colette Will; 53kg: Jo Calvino; 58kg: Sophie Smyth; 63kg: Jane Armour; 69kg: Natasha Perdue; 75kg: Mercy Brown; Over 75kg: Anna Krasnopolska.