Teenage weightlifter Tiler could be a Glasgow medal prospect
By Nick Hope
BBC Olympic sports reporter
Last updated on .From the section Weightlifting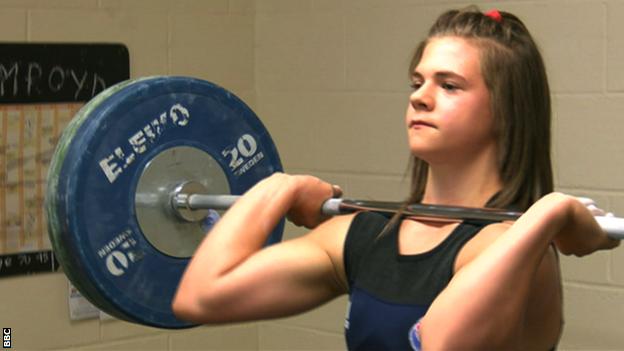 Teenage weightlifter Rebekah Tiler could challenge for a medal at next year's Commonwealth Games.
That is the view of her coach, Eddie Halstead, following the 14-year-old's impressive victory at the European Youth Championships in Lithuania.
"There are some strong girls but in the rankings she's actually ranked fifth already," Halstead told BBC Look North.
"Her progress has been incredible, so with a bit more work and another 12 months I think there's a medal there."
Glasgow 2014 is likely to be Tiler's major senior international debut with the lifter too young to compete in October's senior world championships in Poland or the European Juniors in Tallin, Estonia later this month.
"I'm not frightened [about facing older athletes] at all," said Tiler.
"I just like competing and getting on the platform and showing them how to lift."
At the age of 10 her favourite activity was sprinting, but after a test at a performance centre near her home in Denholme, Yorkshire, she decided to take up weightlifting.
Halstead noticed her talents at a junior event in 2011.
"I saw the raw talent, power and strength and I thought then, what an opportunity if I could work with her," he said.
"Power and strength were not a problem, but we completely changed her technique.
"After that there were times where I was writing the schedules and targets but then struggling to keep up because with her new technique her [personal] best just rocketed."
Tiler currently holds 27 British records, and in the two years since she began working with Halstead her personal best total for the combined snatch and clean and jerk lifts has increased from 120kg to 190kg.
That latest total, set in Lithuania earlier this month, was a new +63kg European Youth record.
Halstead hopes Tiler can follow in the footsteps of Zoe Smith who won a bronze medal at the age of 16 at the Delhi Commonwealths in 2010 before competing at the London Olympics.
"We're looking at the Olympic Games in 2016," he said.
"She's got a bit of work to do but she's growing up as a young person and as she matures, muscle will change and she'll become a lot stronger,
Halstead concluded; "2020 is probably the one where we'll really be looking at [Olympic] medals."