Commonwealth Games: Michaela Breeze comes out of retirement
Last updated on .From the section Wales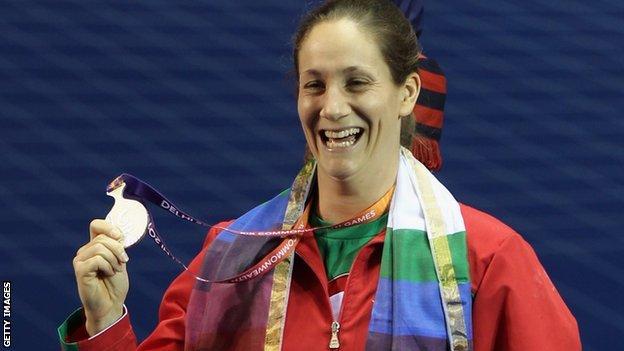 Welsh weightlifter Michaela Breeze has come out of retirement in an attempt to win a medal at the 2014 Commonwealth Games in Glasgow.
Now Breeze, 34, says she is fully focused after lifting 45kg above the Commonwealth A standard weight.
"I'm doing this with full commitment and one aim: to do Wales proud and give it my best in Glasgow," she said.
Breeze, who was appointed an MBE in the 2011 Queen's Birthday Honours, retired after her fourth Commonwealth Games but was called into action to help Wales at this month's Celtic Championships in Cardiff.
The fact she lifted 45kg above the A standard at those championships persuaded her she could compete at a fifth Games.
"[It] books me a place I guess," added Breeze, who captained the Wales team in Delhi.
"I'm trying to approach this more sensibly and just be sensible when I train and how hard I choose to push myself.
"Will the body hold out? Time will tell. At the moment it's doing just great."
Asked whether she was going to Glasgow for a medal, Breeze told BBC Radio Wales Sport: "I'm not going to put myself under that kind of pressure but I'm not doing this to come back empty-handed."