Rebekah Tiler, age 15, wins British weightlifting title

Last updated on .From the section Weightlifting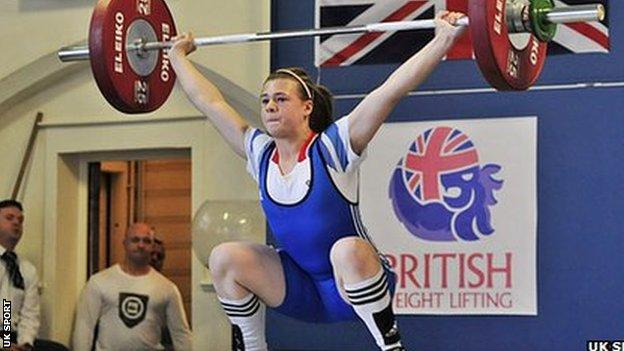 Rebekah Tiler became the youngest weightlifter to win a senior women's British title as she took gold in 69kg class in Coventry.
"It's an amazing feeling to be the youngest ever person to win the British Championships," Tiler told BBC Sport.
"It gives me a lot of confidence going into the Commonwealth Games."
Tiler snatched 90kg and lifted 115kg in the clean and jerk.
She missed out on a new personal best in the snatch at 95kg as she lost balance, allowing her left knee to touch the floor.
"It was quite close but I'll get it next time, hopefully," she said.
The competition at the city's Ricoh Arena was the last event for home nations athletes to reach the qualifying standard for Commonwealth Games selection.
Of those countries, England are the one with the biggest selection headache, as they are the only one with more qualified athletes than team places available.
In the IPC powerlifting event, recently crowned world champion Ali Jawad took the British 59kg title with an unofficial new world record of 191kg - one kilogram above the record he set in April.
"For the world record to stand I need a full international jury, but I don't really mind because I hope to do it at the Commonwealth Games," said Jawad. "People saw me lifting 196kg in the gym last week.
"I want to get 200kg at the Games. That would be awesome. I'm so close to it and it would be history if I could get it on the day."