Rio 2016: Weightlifter Gareth Evans targeting Olympics spot
Last updated on .From the section Wales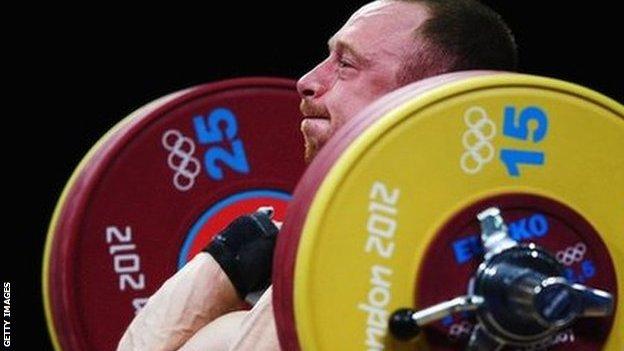 Welsh weightlifter Gareth Evans is working towards securing his place at the 2016 Olympic Games in Rio.
The 29-year-old finished 17th overall in the 69kg class at London 2012.
Evans will compete at the British Championships this month in his bid to qualify for the World Championship and ultimately secure a place in Rio.
"I competed at London and what a fantastic experience that was. It fuelled the fire to do another one," he said.
"The British Championships is my qualification competition for the World Championships and hopefully I'll be hitting top 12 in the world and automatic selection for Rio.
"If not then I will be battling it out with one or two guys that are also in contention and hopefully Rio's the place I end up."
Although the 2016 Olympic Games is his main target, Evans from Holyhead on Anglesey has also set his sights on the next Commonwealth Games.
Evans failed to win a medal in the 62kg class at the 2014 Games in Glasgow and is determined to perform better next time.
"The long term goal is the Gold Coast 2018 Commonwealth Games," Evans added.
"The only ribbon I haven't got at the moment is a Commonwealth medal."
Evans is also combining competing with a coaching career and has been appointed regional development officer for Wales.
Dundee-born Evans coached his own coach Ray Williams at this week's European Masters in Bangor.
"I've been involved in weightlifting since 1998 so it was a natural progression for me to go from the standard of lifting that I've lifted to a coaching role," he added.
"I haven't finished my lifting career yet and, even though I know the sport inside out, I'm still learning the ropes as a coach.
"You never stop learning."