European Weightlifting: Rebekah Tiler wins three bronze medals
Last updated on .From the section Weightlifting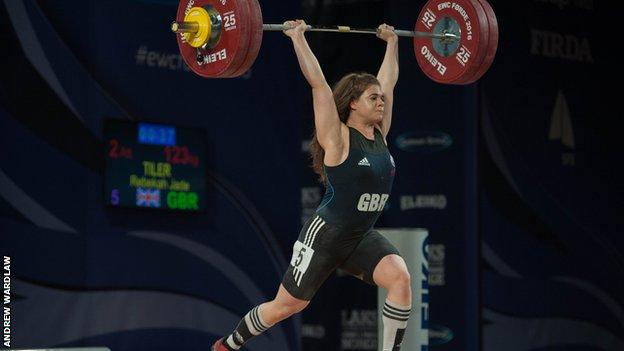 Great Britain's Rebekah Tiler won three bronze medals at the European Weightlifting Championships to boost her hopes of Olympic selection.
The 17-year-old secured overall bronze in Norway as well as individual medals in the snatch - with a best of 99kg - and 123kg in the clean and jerk.
The total of 222kg gave Tiler her first senior championships medal.
Britain are hopeful the women's team have done enough to earn a quota place in Rio this summer.
That will not be confirmed until the competition in Forde finishes on Saturday, and even then Tiler's place at the Games is not guaranteed as only one member of the GB women's team will go to Brazil.
She faces competition from Zoe Smith, who took bronze in the 63kg category on Wednesday.