Weightlifting: Records fall at British Weightlifting and Para-Powerlifting Championships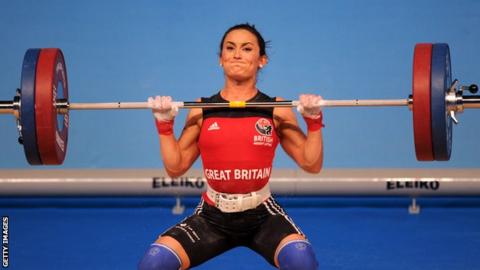 Records were broken on day one of the British Weightlifting and Para-Powerlifting Championships at Coventry's Ricoh Arena.
Emily Godley in the 75kg class and 90kg+ athlete Emily Campbell each broke records held by Mercy Brown.
The day also saw Sarah Davies lifting a personal best to be crowned women's 63kg champion, following a battle with 2014 Commonwealth champion Zoe Smith.
Rio Olympian Rebekah Tiler missed the event in protest over funding cuts.
It was only Smith's second appearance since dislocating her shoulder in 2016.
The men's 94kg, women's 53kg and women's 58kg class saw 2014 Commonwealth Games competitor Cyrille Fagat Tchatchet, Fraer Morrow and two-time British champion Laura Hewitt take gold.
Commonwealth hopeful Owen Boxall won gold in the men's 105kg while the men's 105kg+ class saw Commonwealth bronze medallist and B group competitor Ben Watson take third place overall, Georgi Georgiev take second and John Hanna win gold.