British Championships: Rebekah Tiler misses event in funding protest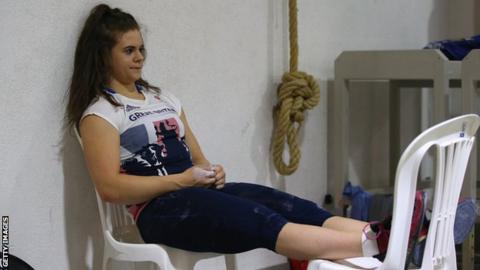 Olympian Rebekah Tiler has missed this weekend's British Championships in protest over funding.
Tiler, 18, was due to compete in the women's -69kg category on Sunday.
UK Sport cut all funding for British Weightlifting (BWL) because the sport was not a "credible" medal chance at the Tokyo 2020 Olympics.
"Sorry guys, won't be at the British this year on strike till some funding is found. British Weightlifting, thanks for messing my life up," she tweeted.
British Weightlifting told BBC Sport that the event had been a success and added: "BWL no longer has the funds to support an elite squad of female lifters training for Tokyo 2020 Olympic Games and the major championships leading up to it, despite the possibility of winning a medal at the Games.
"Sport England continues to support BWL, although that funding is ring-fenced for the development of the sport and at grassroots level. A small budget from Sport England has been allocated to support the squad ahead of the Gold Coast 2018 Commonwealth Games."
Tiler finished 10th at the 2016 Rio Olympics and is a four-time European champion.
She had previously criticised the sport's governing body, saying that she was living in student accommodation and there was no physiotherapist to treat her sore knees.
British Weightlifting responded by saying there was little they could do without the UK Sport funding.
Tiler claimed silver in the snatch and finished fourth overall in the -69kg division at the European Championships in April.