Russia and China given one-year weightlifting bans for doping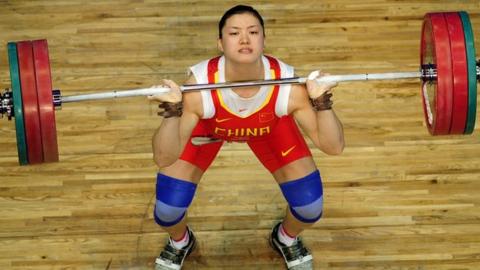 Russia and China are among nine countries to be given a one-year ban from international weightlifting after drugs tests came back positive.
Armenia, Azerbaijan, Belarus, Moldova, Kazakhstan, Turkey and Ukraine have also been suspended.
The countries returned at least three positive results each after tests from the 2008 and 2012 Olympic Games were analysed again.
They will miss the World Championships, which start in California in November.
The International Olympic Committee is retesting hundreds of samples, using new techniques to uncover cheating that went undetected at the time.
Earlier this year three Chinese weightlifters tested positive and faced having to return medals won at their home Games in Beijing in 2008.
Cao Lei, 33, took gold in the women's 75kg weightlifting event at Beijing, Chen Xiexia, 34, won the women's 48kg and Liu Chunhong, 34, was successful in the women's 69kg.
The International Weightlifting Federation (IWF) last year ruled any nations with three or more positive tests would be banned for a year.
Announcing the suspensions, IWF president Tamas Ajan said: "We have made it clear that the incidence of doping in some areas is totally unacceptable and that our members have a responsibility to ensure clean sport in their countries."
Last year, an independent report commissioned by the World Anti-Doping Agency (Wada) found evidence of state-sponsored doping in Russia.
Oleg Pissarevski, the men's team coach, told the R-Sport news agency: "They don't have the right to act like this. Why are they trying to kill the roots of weightlifting development in our country?
"We have changed the executives of the federation. The officials who sinned are no longer there. We exist under the rules, we do 60 checks a week. Our guys have prepared themselves very seriously, and now they have tears in their eyes."
Russia was also banned from the weightlifting event at the 2016 Olympics in Rio.