BBC Sport - Welsh Commonwealth Games lifters celebrate national title wins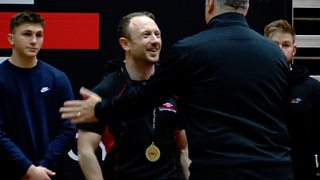 Welsh Commonwealth Games lifters celebrate national titles
BBC Sport Wales catches up with some of the Welsh Commonwealth weightlifting and powerlifting team.
Eight of them won national titles in Cardiff on Sunday, including London 2012 Olympian Gareth Evans and former F57 javelin world record holder Nathan Stephens.
The 2018 Commonwealth Games begin on 4 April in Australia.