Bulgarian Weightlifting chiefs in plea to former medallists over doping fine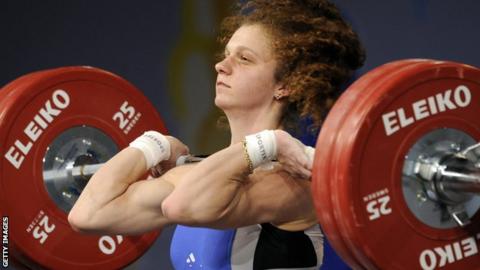 The Bulgarian Weightlifting Federation (BWF) has issued a plea to former medallists to help pay a $250,000 (£179,652) fine for excessive doping.
Eleven Bulgarian weightlifters failed drug tests in 2015, leading to the team being banned from the 2016 Olympics.
The Bulgarian government has refused to help, saying "there is no legal basis for paying the fine" issued by the International Weightlifting Federation.
The governing body could lose its licence if it fails to pay by 18 June.
BWF president Nedelcho Kolev said he had asked for a deadline extension but the request was dismissed.
The cash-strapped BWF has now asked the country's former European, world and Olympic champions and medallists to contribute towards the fine, as well as "their coaches and club managers, their families and friends".
It also extended its plea to "all citizens of the country" in what it described as a "critical moment".
Bulgaria has won 37 Olympic medals in weightlifting, including 12 golds. Bulgarian weightlifters have also won 224 medals, including 79 golds, at world championships, as well as 167 European titles.
The 11 athletes involved in the in 2015 scandal tested positive for the anabolic steroid stanozolol during training.
Eleven Bulgarian weightlifters also failed doping tests prior to the 2008 Olympics in Beijing, leading to the team's withdrawal, while the team was stripped of three gold medals and sent home in shame after positive tests at the 2000 Sydney Games.