Winter Olympics: GB chief Mike Hay declares new belief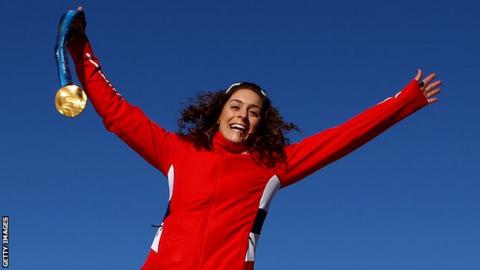 Great Britain team boss Mike Hay says there is a new belief of winning medals at the 2014 Winter Olympics in Sochi.
But chef de mission Hay has warned against setting expectations too high in the wake of the haul of 29 gold medals at last year's Summer Olympics in London.
Britain gained one medal at the last Winter Games in Vancouver in 2010.
"That British athletes can win on a global stage has given our guys a lot of confidence," Hay said.
"There's a whole new belief and that runs not just through the athletes, but the wider support team."
Great Britain have traditionally struggled for success at the Winter Olympics, with their best showing at Chamonix in 1924, when they won four medals.
The last four Winter Games have brought a total of four medals, with Amy Williams's skeleton gold the only one won by Britain in Vancouver last time out.
Hay said: "We have to be careful about handling expectation, because we aren't going to go out there and win 30 medals. We know that."
However, he believes there is plenty of potential for British medals in Sochi.
"I think we've come along way since Vancouver in 2010," Hay added.
"We're in a good position. We've got more strength in depth across more disciplines than we've ever had before.
"There has been more investment, close to £12m invested by UK Sport. That brings more expectation as well.
"In winter sports it's a lot more difficult to predict than summer sports. The environment, the weather, home advantage in some events makes it very tough."
Many of the athletes hoping to compete in Russia next February are in Bath this weekend for a get together ahead of Sochi.
"It's pretty important we have this chance to build the one Team GB, which we talked a lot about at the London Games," Hay said. "It's important for them to get to know each other."