Sochi 2014: Team GB select first athletes for Winter Games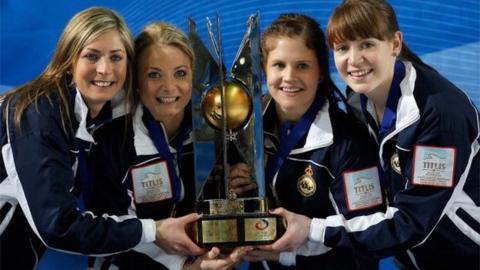 The first athletes have officially been selected for Team GB for the Sochi 2014 Olympic and Paralympic Winter Games.
The women's curling team will be made up of the quartet which won gold for Scotland at the World Championships this year - skip Eve Muirhead, Claire Hamilton, Anna Sloan and Vicki Adams.
Gregor Ewan, Tom Killin, Aileen Neilson and Bob McPherson will make up the Paralympic team competing in Russia.
The Winter Olympics run from February 7-23 and Paralympics from March 7-16.
Muirhead made her Olympic debut at the Vancouver 2010 Olympic Winter Games at the age of just 19, finishing seventh.
She said: This will be my second Olympics and I'm excited - having won the worlds this year we want to continue our winning streak.
"It's not often we get to compete as Team GB and, as proud as we are to compete for Scotland, it's great to be part of a British team too."
It will be the fifth Paralympic Games at which Killin has represented Great Britain.
He was part of the wheelchair curling team at both Vancouver 2010 and Turin 2006, where the team won silver, as well as the 1980 and 1984 Games, where he competed in wheelchair fencing.
Killin said: "I am over the moon to be selected. This will be my fifth Paralympics and I am as excited today as I was on my first selection for Arnhem 1980."