Winter Olympics: We have Sochi medal potential, says GB coach
By Anna Thompson
BBC Sport
Last updated on .From the section Winter Olympics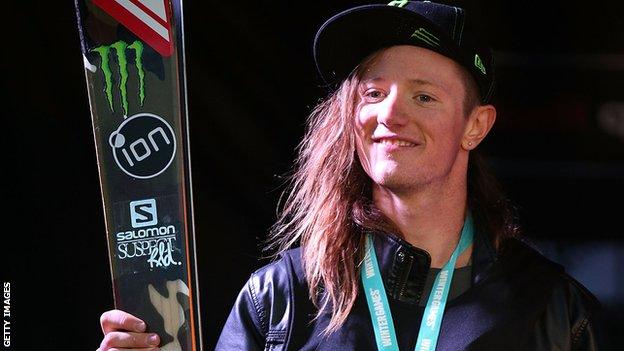 Britain's freestyle skiers and snowboarders will feel they have failed if they return from next year's Winter Olympics in Russia without a medal, says head freeski coach Pat Sharples.
Skier James Woods (pictured above) is the current overall World Cup champion and Katie Summerhayes won a silver medal at World Cup level last season.
Snowboarder Jenny Jones is a triple X Games gold medallist and has been on the World Cup podium, as has fellow rider Billy Morgan.
Sharples is aware of the growing medal expectations and told BBC Sport: "We have the potential to get a medal if we keep our focus and give it 100%.
"Put it another way, I would be disappointed if we came away without getting on the podium as we have athletes in freestyle skiing and snowboarding that are genuine medal contenders."
Britain does not have a history of ski/snowboarding success on the global stage but has become a hotbed of freestyle talent, largely because technical tricks on rails and jumps can be perfected on dry and indoor ski slopes that are dotted around the United Kingdom.
Sharples added: "We're no longer the underdogs and the other nations have massive respect for us.
"We are taken seriously now. We're certainly not a 'Cool Runnings' scenario."
Although Britain are not amateur like the Jamaican bobsleigh team at the 1988 Winter Olympics which led to the Cool Runnings film, the freestyle team was only given funding by UK Sport in 2012 after producing some world-class results.
"These guys are dedicated athletes so it is great they are now going to be able to showcase their talent on the biggest stage, the Winter Olympics."
After the success of ski and snowboard cross in Vancouver in 2010, slopestyle - where skiers and riders are judged on the difficulty and execution of tricks they do while heading down a course with obstacles including rails and jumps - was fast-tracked into the next Games.
Weather conditions, athlete error and judging controversies can all affect the outcome but Sharples remains confident.
"The level of competition is certainly going to crank up and expect bigger tricks than we've ever seen before on the global stage.
"But our athletes will be ready to fulfil their potential."