Carrying a torch for Sochi Winter Olympic Games

By Hazel Irvine
BBC Sport Presenter
Last updated on .From the section Winter Olympics
If you love your multi-sport extravaganzas this has been a week to get your gold-rush juices flowing again.
The 2014 Commonwealth Games baton relay signals the countdown to Glasgow's games next July and Sunday marked the start of Russia's Olympic torch relay ahead of Sochi's Winter Games in February.
I was in Moscow to join the ranks of a veritable army of torchbearers. Me and 13999 others.
We were all clad in rather generously proportioned multi-coloured tracksuits and wee bobble hats, prepared to heroically battle our way, 200 metres at-a-time, through the very worst excesses of a Russian winter.
To be honest, when I prepared for my trot with the torch it was chilly, grey and drizzly. A bit like Glasgow, so I felt right at home.
Other participants will be very glad of the generously proportioned tracksuits when they're layering-up for the -40C Siberian stints!
Our collective torch-bearing efforts will transport the Olympic flame a record-breaking 40,000 miles around all 83 of Russia's regions.
To the bottom of Lake Baikal, (the deepest in the world), the top of Mount Elbrus (Europe's highest), even to the North Pole and the International space station.
Even if the odd torch is blown out by a puff of wind, as one was inside the Kremlin walls - cue red faces in Red Square - Russia's Mother Flame is safely stored in the back-up vehicles.
By hook or by crook, through arctic temperatures the flame that was lit by the sun's rays in Greece will get to Sochi in time for the Opening Ceremony on 7 February.
A day in the life of a torchbearer is, at times, a bit weird but also pretty wonderful.
At 08:00, I registered for my run inside a marquee adjacent to the magnificently multi-coloured and perfectly proportioned St Basil's Cathedral. In the tent, impressive and enthusiastic young Russian volunteers scurried around, helping 30 rather bewildered bearers-in-waiting to fill in a bundle of forms, collect our uniforms and, finally, our torches.
Those torches are rather sleek and splendid things. Red and silver, the colours of "fire and ice", and shaped like a firebird feather. Every Russian will tell you that in traditional fairytales a firebird is symbolically used to "light the way".
When they're full of gas the torches are surprisingly weighty at just over 2kg.
Clutching our precious cargo, the bobble-hatted brigade were cheered out of the tent one-by-one by the volunteers and steered towards our transport. In my mind's eye I recalled pictures of cosmonauts making their way across the tarmac to a waiting Soyuz rocket.
We piled into three minibuses.
Inside, everyone seemed a bit nervous. Like me, they had doubtless imagined a series of mishaps involving untied shoelaces. I checked that mine were double knotted.
I was torchbearer number 18 so I quickly established contact with number 17, Olga who worked for Russian Railways. Happily she spoke a bit of English and we agreed to do a "high-five" after our torches had kissed. It felt like she was quietly bursting with pride.
Those 20 minutes or so in the bus were amongst the most rewarding aspects of the day. There was a real mixture of people, amongst them a teacher from a Moscow polytechnic and a Brazilian journalist.
We chatted as best we could in pigeon English and Russian, waved to the modest crowds along our stretch, then offered pats on the back and encouragement as, one by one, we were dropped off along the route.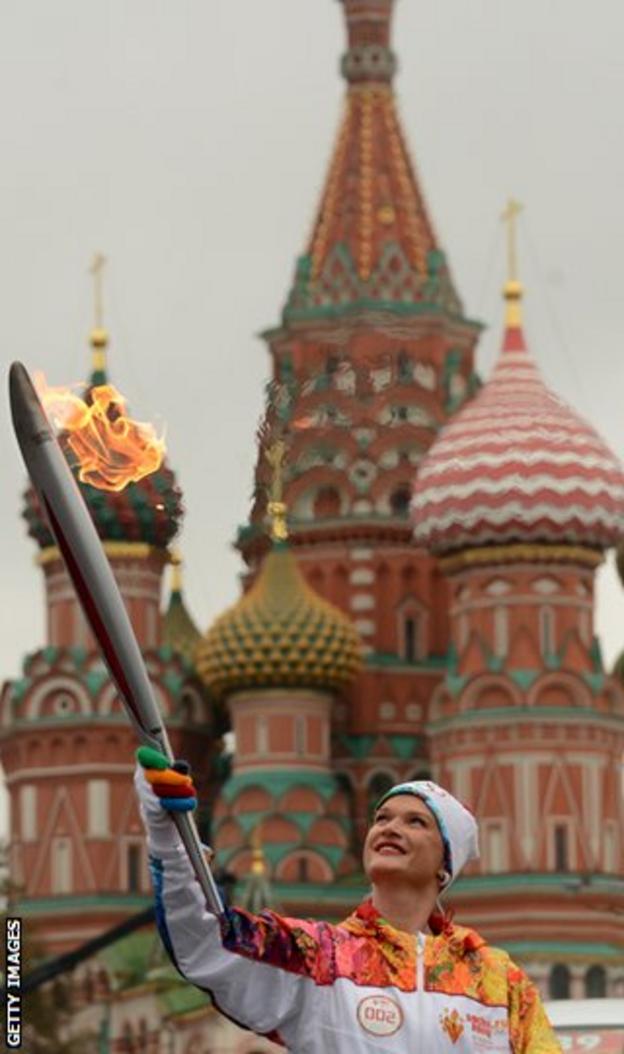 Soon it was Olga's turn, then mine. I hopped off the bus and on to a wide boulevard on the banks of the Moskva river. Office workers poked their heads out of windows and waved down at me. There were a lot of smiles and apparently a lot of curiosity about catching a first glimpse of the Olympic torch in the city since Moscow's summer games of 1980.
Music blared out as the promotion and support vehicles swept past. And suddenly, there was Olga, trotting towards me with the torch in hand, the flame leaping out of the top.
A pretty big flame, actually. We'd been told not to hold it too close. Singed eyebrows would not have been an ideal souvenir of the day.
I stepped forward, a chap turned on my gas and Olga's torch lit mine. We remembered our "high five", she wished me good luck and I began to run.
I told myself to look at the flame and to remember it. I stared upwards at it for what seemed like ages. Thereafter, it's all a bit blurry.
I know I grinned the whole way, I said "wow" to myself a little too often and that it was it was all over in a flash.
I passed on the flame to torchbearer number 19, a tall chap called Roman, then clambered aboard the minibus once more. It was all over.
But I can still replay in my mind that image of the burning torch and how I felt proud to be so intimately connected to the Olympics. For they have been one of the most influential and inspiring forces in my life.
Ever since my first memories of the 1972 Games I have been drawn to sport. Even now, having worked at 12 Winter and Summer Olympics I remain fascinated.
From the effort and excellence of the medallists, the amazing sight of up to 205 nations parading peacefully together at an opening ceremony, to the worldwide respect earned by athletes who are determined simply to be the best they can possibly be.
I still love it and I have seen, over and over again, how the Olympics can genuinely inspire and bring people together. Even if it is for a few moments.
Yes, it's costing a bundle - in Sochi about £30b. Yes, there are some serious challenges to overcome in Russia, as there are in many other societies. Whether the Olympics can change or shape political opinion is a moot point and it will continue to be the subject of much debate.
But if the Olympics should be about inclusiveness, friendship, respect and excellence, then all of us in that minibus enjoyed a taste of it.
So thanks to the Russian relay volunteers, thanks for the baggy tracksuit and thanks to Olga. Maybe see you in Sochi.