10 British medal hopefuls for Sochi 2014: Shelley Rudman
From the section Winter Olympics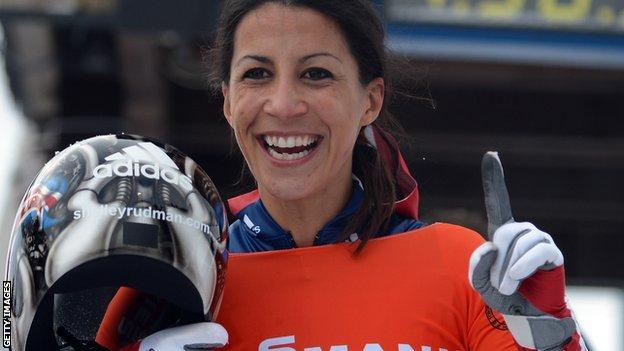 Skeleton
Career highlights
Her silver at the 2006 Winter Olympics was Great Britain's only medal of the Games.
Rudman earned the World Cup title in the 2011-12 season and goes to Sochi as the reigning world champion after becoming the first British female winner in St Moritz in 2013.
She is also a two-time European champion and carried the Great Britain flag at the 2010 Opening Ceremony.
Personal
Her fiancé is fellow British slider Kristan Bromley. Rudman says the couple, who also train together, are "highly competitive with each other".
Their daughter, Ella, was born in October 2007.
Rudman has put on about a stone in the past year in an effort to improve her power at the start.
Did you know?
In September 2013, Pewsey Parish Council unveiled a blue plaque on the house where Rudman grew up and where her parents still live.
The residents of the Wiltshire village famously raised £4,000 to help Rudman's efforts to qualify for the 2006 Winter Olympics.
Career background
A former hurdler, she got into the sport after seeing 2002 Olympic bronze medallist Alex Coomber train at Bath.