Sochi 2014: James Woods says it's weird being classed an athlete
By Jeremy Butler
BBC Sport
Last updated on .From the section Winter Olympics
Winter Olympic gold medal hopeful James Woods admits he finds it "weird" to now be thought of as an elite athlete.
The British slopestyle skier also acknowledges his sport is divided as to whether being an Olympic discipline is good for an event born in skateparks.
Sheffield-based Woods, 21, won silver in the latest World Cup event in August and is highly rated for Sochi 2014.
"It is a little weird suddenly becoming called an athlete and a potential Olympian," he told BBC Sport.
"It is very strange. It has very much been our own thing. It is very weird having people like the IOC and their rules involved.
"It is not a bad thing; just very different. It is something we have to get used to on the sporting side.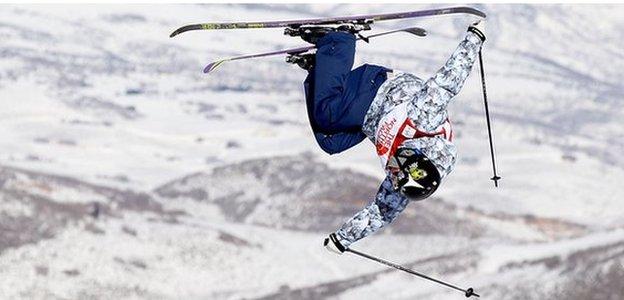 "It is something that is being debated in the community on whether it is a good thing or not.
"But my main focus is that I want to go and showcase what we do and what I have to offer to the world and I couldn't think of a better way to do it than in the pinnacle of sport. "
Like many of his rivals, Woods's love of the sport developed from his days playing at a skatepark at the now defunct Sheffield Ski Village.
He continues to try out new moves on his skateboard and loves the relaxed culture of the skating community.
But that does not stop him showing a competitive edge once he is on his skis.
Woods finished last season ranked as the world's number one in the World Cup standings and won Great Britain's first freestyle skiing medal at a world championships in 20 years when he earned silver in Norway in March.
His success means there are high expectations ahead of the Sochi Games.
But Woods says he is looking forward to the opportunity to showcase his sport to a global audience.
"As soon as this sport gets into the Olympics people will realise what it is all about," he said.
"The progression of this sport is absolutely ridiculous. It has only been around for about 20 years.
"The progression has been so steep that the runs and tricks I did last year to win competitions will probably not even get you in the top 10 this year."
Woods feels it is the licence to invent new tricks that makes his sport so exciting.
He added: "You have free rein to do whatever you want on the slope they give you.
"There are different obstacles and different courses and you have to impress the judges as much as you can.
"We have two-sided skis with twin tips so you can go backwards and forwards and jump around like a lunatic."