Sochi 2014: Elise Christie heartache behind Olympic medal bid
By Ollie Williams
BBC Olympic sports reporter in Turin
Last updated on .From the section Winter Olympics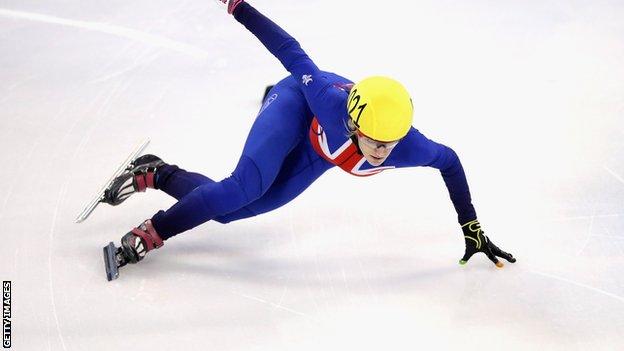 Olympic seasons should not start like this.
Elise Christie has been short-track speed skating's world number one for much of the past two years. But the past two years will not get her to Sochi 2014, nor win her Olympic medals.
The 23-year-old needs to perform now, in two Olympic qualifiers - this week in Turin, Italy, and next week in the Russian town of Kolomna.
To do so, she must overcome a season so far beset by illness and bereavement.
"I started the season with mumps. That wasn't great," the Livingston skater tells BBC Sport inside Turin's Palatazzoli rink, which is hosting the opening qualifier for Sochi.
This week doubles as the third World Cup of a campaign which began with races in Shanghai and Seoul.
"I had a tough time in Asia emotionally," says Christie. "My gran passed away two days before I started racing. That first week, competing while the funeral was on, was just so hard and weird.
"I kept waking up and thinking she was going to be there when I got home but no, she's gone.
"My family were trying to keep me involved but I had a lot going on while my mum needed me to be there for her, and it was all quite tough."
Inevitably, events at home took their toll on Christie's skating. Billed as a leading British medal prospect for the Winter Olympics, she felt nothing like one.
"I guess I am without the background stuff going on," she says. "I'm a bit distracted in some senses. But I'm beginning to feel more like me again."
Even assuming the three months ahead run smoothly, the hype of being a medal hope can overlook the reality of a sport known for unpredictability.
Christie's consistency as a world-leading skater is rare, but she will still need to play the strategic game of her life to lay her hands on an Olympic medal.
Nations like China and South Korea dominate short-track, with Britain still a comparatively small player. The team reckons it ranks 15th or 16th in the world for funding, despite being one of the best-resourced winter sports in the UK.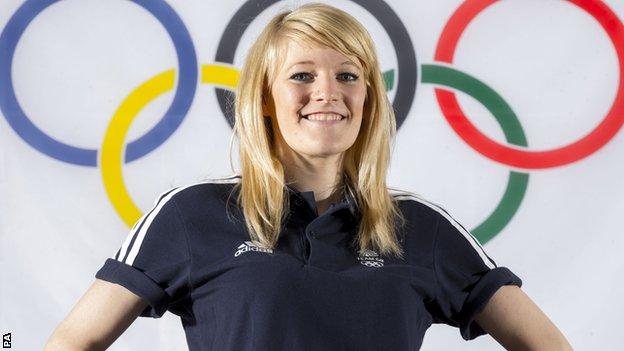 As performance director Stuart Horsepool explains, the tiniest error while racing against rivals from the same team could spell disaster.
"One of Elise's biggest obstacles will be that when she gets to the Games itself, she could quite easily face two or three skaters from the same nation," says Horsepool.
"We're not that strong - you look at the Koreans and Chinese, they are the two strong nations. So we've done a lot of simulation in training."
Christie adds: "I can get into a final and face three people from the same country. And they're going to race together to get all three medals. That's hard.
"I've tried to practise my weaknesses in competition: I'm known for going out and leading races, so I didn't lead so many, I started from the back and did some overtaking.
"I've tried different things that didn't really work, learned a lot from watching that, and been practising stuff in training. Hopefully I'll be prepared."
Christie made her Olympic debut at Vancouver 2010 as a teenager, failing to get beyond the last 16 in any of her events, but has long maintained that she is a changed woman.
"I was a kid in Vancouver," she says. "I was shocked that I'd even qualified. Coming out of it, I thought I could either do that again - qualify, have a nice experience - or I could change things, go out there and believe in doing something.
"I changed my diet and started having no friends, I guess. I used to go to the cinema during the week or go out for dinner. Now? I train, I go home. I get the nutrition and the sleep that I need. There is not much time for anything else.
"I do think people can make choices. It's a choice that's really hard to make - you can't just sit there and decide to improve, it's a less-conscious kind of choice inside.
"I think the difference between the top people and those that don't make it is choice, belief, and mental attitude rather than physical ability."
Jon Eley, a veteran of Team GB at the 2006 and 2010 Winter Olympics, has seen Christie grow up as an individual and a skater.
"She's gone from a girl who just liked to go racing to being a winner. As the four years have gone on since, she's become a girl who goes out there, takes races on and shows people what she can do."
Reaching the weekend's finals in Turin will leave Christie all but assured of a place at Sochi. Her ambition stretches far beyond that.
"When I finished the World Championships, I came off with a bronze medal. I went into that race thinking, 'I just want a medal here.' I didn't really try to win," she remembers.
"I was really disappointed, when I got off, that I didn't go out to win the race. That changed me again.
"I'd rather go to the Games and come out thinking I tried to win, not that I went out and crossed the line third with a half-hearted attempt, and regretting that. I'm focused on having no regrets."