Sochi 2014: Skater Elise Christie crashes twice in one minute
By Ollie Williams
BBC Olympic sports reporter in Turin
Last updated on .From the section Winter Olympics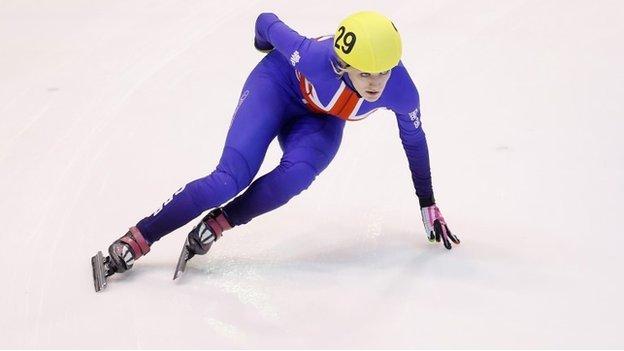 Leading British short-track skater Elise Christie crashed twice and set a British record on an eventful third day of Olympic qualifying in Turin.
Christie, 23, collided with another skater at the first corner of her 500m quarter-final, then fell again after the restart, blaming a damaged skate.
"It was pretty embarrassing. I'm here for comical value," said Christie, who earlier finished sixth in the 1500m.
The Scot's falls will not affect Olympic qualification.
She set a new GB record in the 1500m semi-finals.
Racing in Turin concludes on Sunday with Christie's favoured event, the 1000m, in which she won a world bronze medal earlier this year.
Reaching the last 16 in each of short-track's three individual distances had been her target in Turin, a goal she had achieved before Saturday's racing.
The British team believe last-16 finishes at either of the two Olympic qualifiers will earn enough points to secure a berth at Sochi 2014. The second qualifier is in Kolomna, Russia, next week.
Livingston skater Christie reached the 1500m final in a time of two minutes 18.696 seconds, shaving more than two seconds off the British record previously held by team-mate Charlotte Gilmartin, but could only finish sixth after two abortive attempts to break into the top three.
In the 500m, she endured two falls in the space of a minute to end any hope of a place in the final.
"It's not too bad. At least it happened later on rather than in the first round," Christie told BBC Sport.
"It's just a shame because I was looking good. You have to laugh - I couldn't do anything else.
"I'm obviously devastated inside, but hey-ho. I'm glad I made a final. These are the people we'll be racing at the Olympic Games and if you make the final, you're in with a chance."
Christie is one of the few skaters from any nation to have entered all three distances at these Olympic qualifiers. Other countries are able to call on larger squads, but Christie has been relied upon by Britain to earn a place in each event.
"I've done so much racing," she said. "At the Olympics I'll be a lot fresher."
Jack Whelbourne, Christie's team-mate and boyfriend, went out in the semi-finals of the 1500m and failed to progress beyond the quarter-finals of the 500m. Paul Stanley was eliminated in the last 16 of the 500m.