Sochi 2014: British Olympic short-track skaters 'not ready'
By Ollie Williams
BBC Olympic sports reporter in Turin
Last updated on .From the section Winter Olympics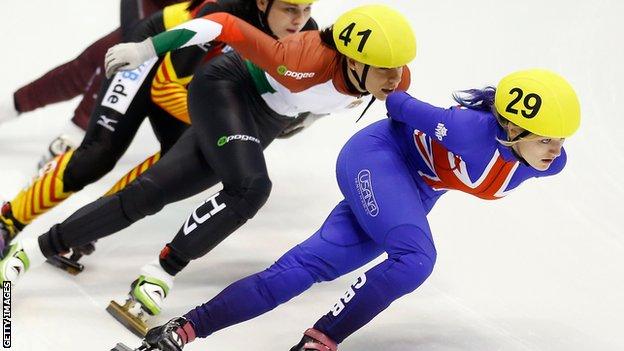 Britain's short-track skaters have "a lot of work to do" after their opening Olympic qualifier, according to performance director Stuart Horsepool.
Elise Christie, 23, and Jack Whelbourne, 22, earned places at next year's Sochi Games, but went out in Sunday's quarter-finals in Turin.
Horsepool said: "If this was the Olympics I'd be devastated. We're not sharp enough, we're not quite ready."
Olympic qualifying concludes next week in the Russian town of Kolomna.
Christie and Whelbourne reached at least the last 16 in all three of the sport's individual distances - the 500m, 1000m and 1500m - which had been their target to ensure Olympic qualification.
But while Christie went on to reach Saturday's 1500m final, finishing sixth, both skaters bowed out disappointingly in the 500m and 1000m.
Olympic qualifying carries one of the toughest schedules in the sport. Few leading skaters compete in all the distances - but Britain rely heavily on Christie and Whelbourne.
"It's difficult doing all the distances," Christie told BBC Sport after her 1000m quarter-final exit. "I'm tired now, it's not what I was built to do.
"This is the hardest thing I have to do this year, both emotionally and physically. Everyone is stressed about qualifying, and I want to do well so there is more chance of the other girls qualifying.
"The positive is I've got qualification in every distance. I believe the Olympics will feel easier than this."
The Scot won this year's world bronze medal in the 1000m distance and showed flashes in Turin of her potential to win an Olympic medal, particularly when leading from the front, as is her trademark.
Similarly, Nottingham's Whelbourne skated many of his heats with flair and determination, but must learn from missed opportunities in Sunday's quarter-final.
He said: "We're not meant to be performing at our best here - and hopefully this isn't my best.
"If you look at results maybe it's disappointing, but I think I moved forward. I still have more to give, I feel pretty strong."
With their Olympic qualification assured, the focus switches from Christie and Whelbourne to the remaining seven GB skaters at the final qualifier in Kolomna, which begins on Thursday.
Paul Stanley reached the last 16 of the men's 500m, which should earn Britain a second Sochi 2014 place in that event.
But Jon Eley, a top-six finisher at both the 2006 and 2010 Winter Olympics, suffered at the hands of referees in Turin and is now under pressure to deliver top-16 results in Kolomna.
Eley and Whelbourne must also aim to steer the British men's relay team to a top-six finish or better in Russia, after both the men's and women's relay team failed to hit their target of a top-eight finish in Turin.
Britain has never before qualified a women's relay team for a Winter Games, but the men's team have a strong record and have a top-six ranking.