Sochi 2014: Winter Olympics sports this week
Last updated on .From the section Winter Olympics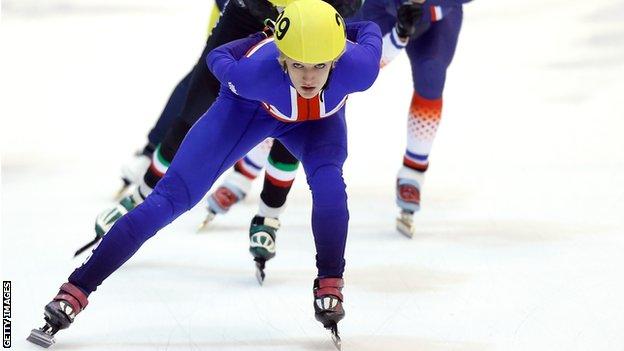 MAJOR EVENTS THIS WEEK
SHORT TRACK SPEED SKATING - World Cup, Kolomna (14-17 November): The fourth World Cup competition of the season, in Russia, doubles as the second of the two Olympic qualifying events. Great Britain already look to have secured several individual spots but will be hoping to land places for the men's and women's team relays.
FIGURE SKATING - Eric Bompard Trophy, Paris (15-17 November): The Grand Prix season arrives in Europe for its fifth leg. Among those scheduled to compete are triple world champion Patrick Chan and fellow Canadians and Olympic ice dancing champions Tessa Virtue and Scott Moir. British ice dancers Penny Coomes and Nick Buckland are also in action in Paris.
ALPINE SKIING - World Cup slalom, Levi (16 November): The first World Cup slalom takes place in Finland. The women's field should include reigning overall World Cup champion Tina Maze and teenage world champion Mikaela Shiffrin of the USA.
LUGE - World Cup, Lillehammer (16-17 November): The luge season gets under way in Norway. Current world champions Felix Loch and Natalie Geisenberger lead the German contingent, while Great Britain's AJ Rosen is also scheduled to compete.
SPEED SKATING - World Cup, Salt Lake City (15-17 November): The second World Cup event of the long track speed skating season takes place in the USA.
CURLING - Pacific-Asia Curling Championships, Shanghai (11-19 November): No Sochi spots available here, but the World Championship qualifier will offer a crucial form guide ahead of the final Olympic qualification event in Germany in December.
LAST WEEK'S HIGHLIGHTS
Britain's short track skaters all but nailed down places in Sochi, former Olympic figure skating champion Yevgeny Plushenko made a winning comeback, world records fell at the season-opening long track speed skating World Cup, and the Olympic torch relay stopped off in Space.
SHORT TRACK SPEED SKATING
Great Britain's short track team have all but guaranteed places at the Sochi Games after the first of the two Olympic qualifying events last weekend.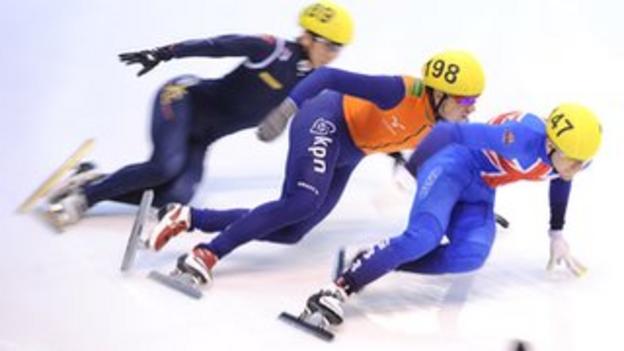 Elise Christie reached the last 16 in the 1500m, 1000m and 500m, while Jack Whelbourne did likewise in both the 1500m and 500m, positions which should secure the British team individual quota places for each of those distances at Sochi.
But both the men's and women's relay teams failed to finish in the top eight in Turin, so have their work cut out in this week's second and final qualifying event in Kolomna in Russia.
Paul Stanley reached the last 16 of the men's 500m, which should earn Britain a second spot at Sochi in that event but Jon Eley, a top-six finisher at both the 2006 and 2010 Winter Olympics, missed out and must now look to deliver top-16 results in Kolomna.
Christie failed to reach the finals of the shorter distances but finished sixth in the 1500m, breaking team-mate Charlotte Gilmartin's British record in the process.
Overall winners in Turin included Canada's Charles Hamelin, who was successful in both the 500m and 1000m, and China's multiple Olympic champion Wang Meng, who won the women's 500m.
FIGURE SKATING
Japanese skaters won the men's and ladies' figure skating competitions at the NHK Trophy, with 2010 bronze medallist Daisuke Takahashi and 2010 silver medallist Mao Asada both taking the top step of the podium.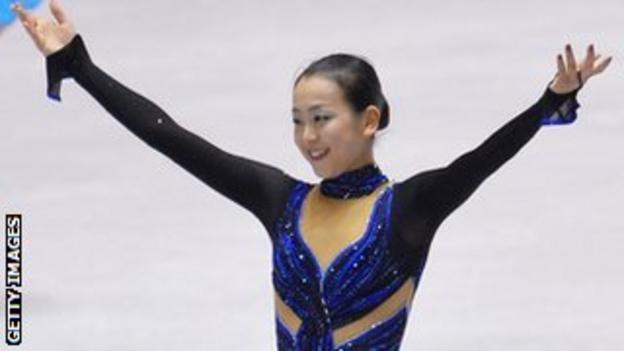 There was disappointment for 2013 World Championships bronze medallist Javier Fernandez. The Spaniard, making his seasonal Grand Prix debut, finished fifth after an error-strewn long programme.
American ice dancers Meryl Davis and Charlie White, who won silver in Vancouver, notched their 14th straight Grand Prix win at the event in Japan.
Russian world champions Tatyana Volosozhar and Maksim Trankov, who set a world record score last month, won the pairs event.
Meanwhile at a lower-level event in Latvia, 31-year-old former Olympic champion Yevgeny Plushenko won at his first competition since January.
SPEED SKATING
Two world records fell at the season-opening World Cup in Calgary. South Korea's Lee Sang-Hwa won both women's 500m contests in Canada - clocking a record-breaking time of 36.74 seconds in the second race.
In the men's team pursuit, the Netherlands broke their own world record with a time of 3:37.17, finishing over a second clear of the USA.
Meanwhile, Dutchman Sven Kramer skated the second-fastest 5,000m ever to claim an impressive victory. Two-time Olympic champion Shani Davis from the USA won his preferred distance - the 1000m - and fellow Americans Tucker Fredricks (500m) and Heather Richardson (1000m) also recorded notable wins.
ICE HOCKEY
Canada won the Four Nations Cup women's hockey tournament in Lake Placid, beating Finland 6-3 in the final. Hosts USA beat Sweden 8-1 in the third-place play-off, having earlier been upset by Finland.
According to NBC Sports, that made it the first time the USA side had lost to a nation other than Canada in regulation play in an Olympics, World Championships or Four Nations Cup, a run lasting 161 games.
SKELETON
Britain's skeleton team have been acquainting themselves with the Olympic track in Sochi.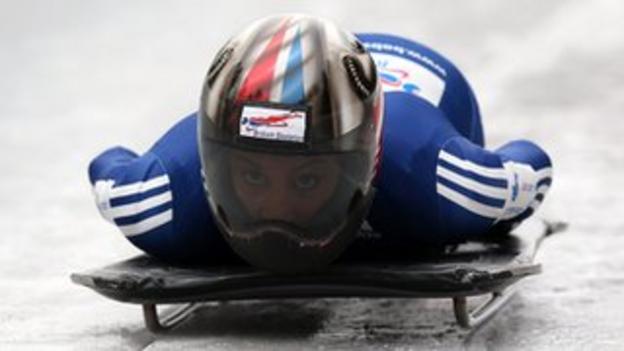 World champion Shelley Rudman told the Daily Telegraph that the 11-day window for training on the track was "probably the most important two weeks of the whole season apart from obviously the Olympic race".
She added: "After this next fortnight I'll definitely know if it's a track where I've got a lot of work to do away from the training runs or whether I'm going to be able to get along with it naturally and instinctively."
ALPINE SKIING
Lindsey Vonn had her first downhill training session since injuring her knee in a crash at the World Championships in February. The reigning Olympic downhill champion described the workout in Colorado as "awesome".
SKI JUMPING
Teenager Sarah Hendrickson has been named in the USA's World Cup squad despite suffering cruciate ligament damage in August.
The 19-year-old is still hoping to make the historic first-ever Olympic women's ski jumping competition, saying: "I could easily give up on the Olympics, but that's my dream. That's what I've been training for for so many years. I want so badly to walk into those opening ceremonies and represent my country."
OTHER NEWS
The Winter Olympic torch has been on a historic first spacewalk. Two Russian cosmonauts posed for photographs as they waved the torch outside the International Space Station 261 miles above Earth. The torch was unlit inside the space station because of safety concerns, and outside because of the lack of an oxygen system.
Fifa president Sepp Blatter has said the 2022 World Cup will not be held in January or February of that year to avoid a clash with the Winter Olympics. Blatter said to hold it in January or February "would be totally disrespectful to the Olympic family and organisation".
Meanwhile, Stockholm is the latest city to throw its hat into the ring to stage the 2022 Winter Olympics. The deadline for entries is this week.