Australia issue stringent 'no alcohol' rules for Olympic athletes
Last updated on .From the section Winter Olympics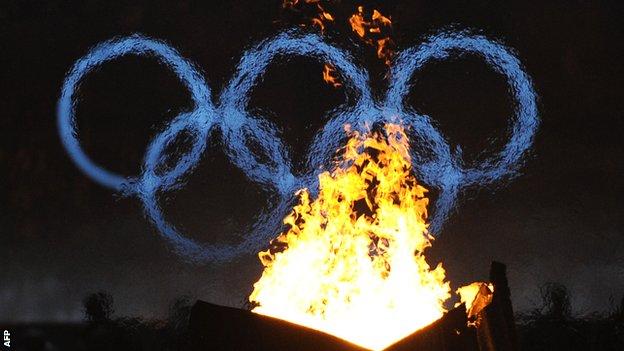 Australian athletes at the 2014 Winter Games will risk being sent home if they are caught "swaying or having rambling conversations" at the Olympic Village.
It comes after the Australian Olympic Committee (AOC) imposed stringent alcohol restrictions on its athletes.
New rules state athletes are allowed to consume alcohol responsibly outside the Olympic village after their events.
But no alcohol will be permitted in the Olympic Village or on the return flight to Australia following the Games.
The 'Position Statement on the Australian Olympic Team and Alcohol' was released on 19 November and will be put into place for the Winter Olympics in Russia in February.
Among the behaviour thought to be 'inappropriate or disruptive to others' at the Olympic Village were:
Being disorderly or argumentative

Swaying, staggering or falling down

Having rambling conversations

Being bad tempered, aggressive or using offensive language
Kitty Chiller, 2016 Australian Olympic Team Chef de Mission, said: "This is about us providing a totally 100% high-performance focused environment to allow athletes to best prepare for their event whether they are competing on day one or day 16 of the Games.
"It's about recommending responsible consumption of alcohol and ensuring no other athlete in the village is disrupted by the irresponsible consumption of alcohol by other team members who have finished competing."
The Australian team were forced to deal with incidents of drunken behaviour during London 2012.
Rower Josh Booth was detained by police after allegedly damaging a shop window during a night out.
And an independent review said the country's Olympic swimming team existed within a "toxic" culture after their worst Olympic performance in two decades.
Chiller added: "This is not a knee-jerk reaction to London. This is about moving forward with an even greater high-performance environment designed for success."
On Monday, Australia's rugby union team suspended six players for one match and warned nine more for drinking in midweek before Saturday's 32-15 win over Ireland.
Wallabies coach Ewan McKenzie said Australia's "ethical conduct" standards had been compromised.