Sochi 2014 Winter Olympics: GB figure skaters in team event
Last updated on .From the section Winter Olympics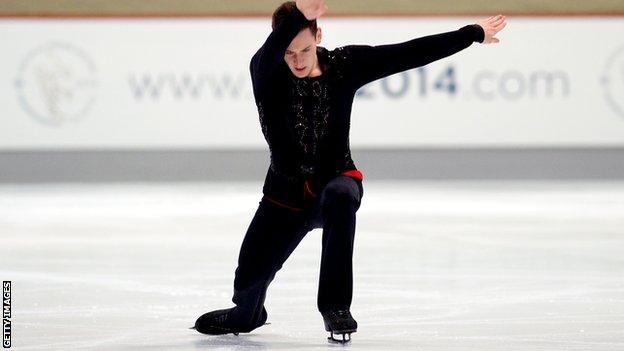 Britain's figure skaters have earned their place in a new team event at the Sochi Winter Olympics in February.
The discipline sees six skaters - ice dance and pairs couples, plus a man and a woman - taking part with their points combined for an overall team score.
Standings released on Monday have Great Britain qualifying in the last of the 10 available places for the event.
It also means Team GB can now send a male solo skater to Sochi 2014, despite failing to otherwise secure a berth.
National champion Matthew Parr (pictured above) has been chosen by governing body the National Ice Skating Association and the British Olympic Association.
The other GB skaters, who all earned individual qualification alongside a place in the team event, are Stacey Kemp and David King (pairs) and Jenna McCorkell in the women's event.
The team competition will take place at the start of the Games, with the men's and pairs short programmes held a day before the opening ceremony.
Only the top five nations progress to the second stage of the team contest, which means Britain's male skater - who has no individual event later in the Games, unlike his team-mates - could well be eliminated from Sochi 2014 even before the Games are officially opened.
Canada led qualification for the team event, followed by Russia and the United States. The US won last year's World Team Trophy, held in Tokyo, ahead of Canada.
The remaining competitors are Japan, Italy, France, China, Germany and Ukraine.