Sochi 2014: 'Strongest ever' short track skating team announced
Last updated on .From the section Winter Olympics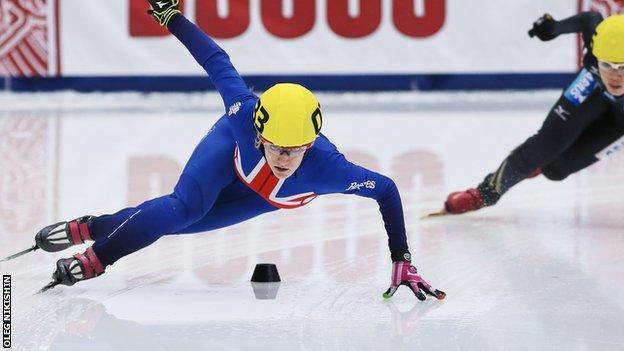 Great Britain will take their "strongest ever" short track skating team to Sochi 2014, according to performance director Stuart Horsepool.
World championship bronze medallist Elise Christie is joined by Jon Eley, Charlotte Gilmartin, Richard Shoebridge and Jack Whelbourne in the team.
"This is without doubt the strongest British team we have ever put together," Horsepool said.
"A number of the selected athletes have opportunities of bringing home medals."
Christie, Gilmartin and Whelbourne will compete at 500m, 1000m and 1500m, Eley will race at 500m and 1000m, while Shoebridge skates in the 1000m.
Christie, who finished 11th, 20th and 19th in the 500m, 1000m and 1500m in Vancouver in 2010, is the current world number one at 1000m.
Eley, 29, is set for a third appearance at the Winter Olympics, having finished fifth and sixth respectively in the 500m at Turin in 2006 and Vancouver in 2010.
Whelbourne finished 16th in the 1500m in 2010, while Gilmartin and Shoebridge feature at the Winter Olympics for the first time
Nicky Gooch's bronze medal at Lillehammer in 1994 was Great Britain's only ever medal in the sport, which was first introduced at the 1992 Winter Olympics.