Winter Olympics 2014: Jenny Jones excited by slopestyle debut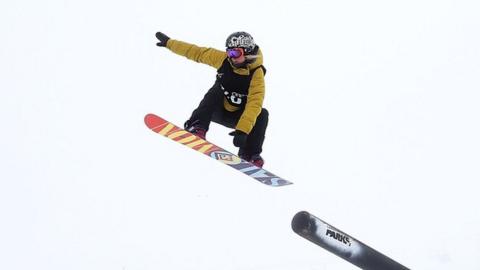 British Winter Olympics medal prospect Jenny Jones says the thrill of perfecting tough new snowboard tricks has kept her hungry for success.
At 33, she is a veteran on the slopes but her discipline, slopestyle, will only be making its Winter Olympic debut in Russia next month.
Jones has been at the top of her sport for a decade, winning three X Games titles in Colorado and Tignes, and she started this season with a second place at the opening World Cup of the season to underline her medal potential for Sochi.
In an interview with BBC's Ski Sunday, she said: "I'm excited [about the Winter Olympics] and less terrified than I was because I've got some results under my belt."
But Jones, who hails from Bristol, has admitted to feeling overwhelmed by the pressure of the upcoming Games because of her pedigree and the fact the sport is continually evolving.
"There were moments when I wasn't enjoying myself, but then I have to put my game head on and put down a run," she said.
"But I do get a buzz out of landing a trick and I also get a buzz landing those tricks when it counts in a competition."
Jones knows only too well that injuries are an occupational hazard and she did not compete in the last World Cup in Copper Mountain, Colorado, after suffering concussion during a training session in Austria.
Her recovery and wellbeing are being monitored by a physio and trainer, funded by UK Sport, which agreed to plough £1.3m into freestyle skiing and snowboarding in the run-up to Sochi after impressive world class results.
"UK Sport funding has definitely made life easier," Jones said.
"My physio and trainer see our sport as similar to rugby, with lots of impact injuries, which you've got to keep on top of.
"Thank you to my body for getting through each day and each situation. It is tough and half the battle is asking your body to do stuff. It is doing it for me and I'm so grateful for it hanging on in there."
The British Olympic Association will announce the Winter Olympic ski and snowboard squads on 22 January, with Jones already meeting the qualifying criteria.
But she does not allow herself to dream about standing on the podium in Rosa Khutor on 9 February - just yet.
"I'm just taking each event at a time and trying to remember why I like snowboarding and it's because I enjoy the tricks.
"So if I'm still doing that, still wanting to show off those new tricks, then it means I still want to compete - that's the stage I want to be at."
Slopestyle is where skiers or snowboarders head down a course and execute tricks off jumps and rails, with the tricks marked on difficulty and size.
As well as Jones, Team GB has other podium hopefuls in the event through snowboarder Billy Morgan and skiers James Woods and Katie Summerhayes as Great Britain looks to win a first Winter Olympic medal on snow.