Snowboarder Ben Kilner eyes Sochi Winter Games gold
Last updated on .From the section Winter Olympics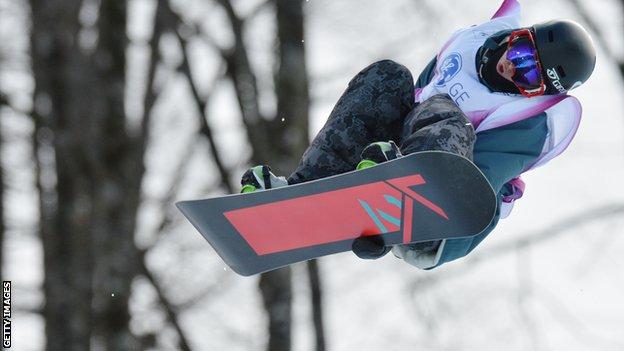 Scots snowboarder Ben Kilner hopes the Sochi Winter Games next month continues to raise the profile of his sport as he pursues his dream of Olympic gold.
The Games will be Kilner's second, having competed in Vancouver four years ago, and he aims to beat his 18th-place finish in Canada.
"I just want to be safe in getting into the finals," said Kilner.
"That's my goal, and once I'm there I can put in some harder tricks to challenge as much as I can."
Kilner started snowboarding at an early age and first competed in the Scottish Rider cup series aged just ten, which he won four years in a row, before sealing the British Championships in 2001.
He gave up on a university education to pursue his dream of professional snowboarding and now has his sights set on the high-profile Winter Games in Russia.
"I was nine years old when I went snowboarding for the first time, but a long time before that I was always down at my local golf course sledging," said Kilner.
"I remember seeing these other snowboarders about and it gave me some ideas to stand up on my own sledge.
"Eventually, my mum booked me a snowboard lesson at Glenshee and that's where I really got hooked on it.
"I've made a lot of sacrifices - university being one of them - I dropped out of going to uni just to achieve my goals.
"I went for Vancouver and I just wanted to pursue my dream and become a professional snowboarder.
"It hadn't really been done in the UK and no-one had really said that it was much of a career. I wanted to try my best to make sure that I could do it."
Nicknamed "Kildog", the 25-year-old from Banchory is one of the lucky few funded professional boarders in the UK, but will have one eye on the world rankings - dominated by the USA - as he aims to qualify for Team GB and compete in the half-pipe.
He also believes winter sports are becoming more popular and continued exposure for the Olympics can only help further interest in his own discipline.
"The funding has been a massive help to me and the sponsorship as well," said Kilner. "It's allowed me to keep going and keep travelling to get better at snowboarding and compete for the country.
"America is in there at the top - at the moment, they're all battling against each other to qualify.
"There's about 16 of them in the top 40 battling for the top four spots, so they've really got it hard in comparison to the other countries.
"The Winter Games is massive, it's grown so popular that everyone knows what it is.
"My granny is always asking me if I've learned any new tricks and I have to tell her I've learned a new 1080 - so she knows what it is and I'm hoping it gets out there and everyone and their auntie knows."