McCorkell squeezes into European free skate in 24th after falls
Last updated on .From the section Winter Olympics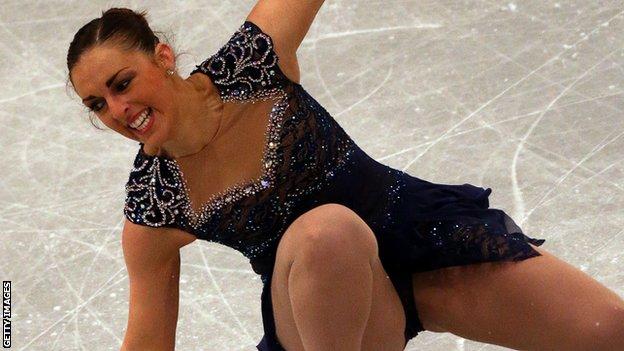 Coleraine woman Jenna McCorkell squeezed into Friday's free skating at the European Championships after falling twice in Wednesday's opening short programme in Budapest.
McCorkell, 27, faced an anxious wait before she achieved the last qualification spot as she placed 24th.
The Northern Ireland woman will hope for better on Friday as she builds up to next month's Winter Olympics.
McCorkell was a hugely disappointing 29th at the last Winter Olympics.
On that occasion, the Coleraine skater was unable to progress beyond the short programme stage in Vancouver in what was her first Winter Olympics.
Her impressive performance in securing her 11th British national title in November suggested that McCorkell was on course for an improved Olympic showing in Sochi.
However, McCorkell's score of 39.59 on Wednesday was some way below her previous short programme best of 53.80.
McCorkell's best European Championship performance was an impressive eighth place in 2008 but she will need to perform well on Friday to move into the top 20.
She did regroup impressively from her 2010 Olympics disappointment to finish 14th at the 2012 World Championships which equalled her best previous showing at the championships.
McCorkell plans to retire from competitive skating after this season.
Russian duo Adelina Sotnikova and Julia Lipnitskaia headed defending champion Italy's Carolina Kostner in Wednesday's short programme.
Sotnikova posted a score of 70.73 which left her marginally ahead of her compatriot Lipnitskaia (69.97) and Kostner (68.97).
McCorkell's personal best score would have been good enough for 10th place on Wednesday.