Penny Coomes and Nick Buckland win European ice dance bronze
Last updated on .From the section Winter Olympics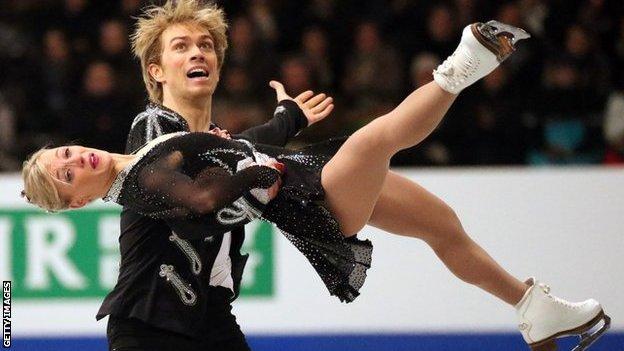 British ice dancer Nick Buckland won the first European figure skating medal of his career in Budapest just months after heart surgery.
In October Buckland had an operation to correct a condition known as tachycardia, which had caused his heart to beat unusually fast.
Buckland and partner Penny Coomes, both aged 24, sealed their bronze medals with a career-best 158.69.
The couple are preparing for their second Winter Olympics next month.
Italy's Anna Cappellini and Luca Lanotte won gold with 171.61, ahead of Russia's Elena Ilinykh and Nikita Katsalapov on 170.51.
Maidenhead's Coomes and Nottingham skater Buckland, considered Britain's best figure-skating prospects at Sochi 2014, lay third heading into the free dance after a strong short dance.
They produced a superb free dance to a Michael Jackson medley, as Buckland imitated the pop legend with a lone white glove, to deliver a personal-best score on the night and hold on to third place at the European Figure Skating Championships in the Hungarian capital.
Earlier, GB's Matthew Parr failed to progress from the men's short programme.
The 23-year-old from Newcastle finished 27th in the men's short programme with a score of 49.32, needing at least 52.08 to place among the top 24 skaters who will contest the free skate on Saturday.
Parr has not qualified for the Winter Olympics in the men's individual competition, but will compete for GB in the team event, which is being held for the first time at Sochi 2014.
Jenna McCorkell, Britain's entrant in this year's Olympic women's event, scored 39.59 to finish 24th in her short programme on Wednesday - just enough to qualify for Friday's free skate.
Russia's Adelina Sotnikova leads the women's standings after the short programme with 70.73, ahead of 15-year-old compatriot Julia Lipnitskaia on 69.97.
Javier Fernandez, the Spanish defending champion, holds an impressive lead in the men's event with a score of 91.56 compared to the 85.51 of second-placed Russian Sergei Voronov.
Two British pairs begin their European challenge on Friday, Olympic team members Stacey Kemp and David King are alongside young duo Amani Fancy and Chris Boyadji, who recently beat Kemp and King to the British title in their first season together.
The European Championships are the final event for Britain's skaters before next month's Olympics, with the team figure skating event beginning on 6 February, one day before Sochi 2014's opening ceremony.
Jayne Torvill and Christopher Dean were Britain's last European champions in 1994, winning the event for the fourth time in Copenhagen before taking Olympic bronze later that year in Lillehammer.
Sinead and John Kerr were Britain's last European medallists in 2011.
The Kerr siblings twice won European bronze before retiring from the sport a year after their eighth-place finish at Vancouver 2010, where Coomes and Buckland were 20th on their debut.