Sochi 2014: Winter Olympics sports this week (20-26 Jan)
Last updated on .From the section Winter Olympics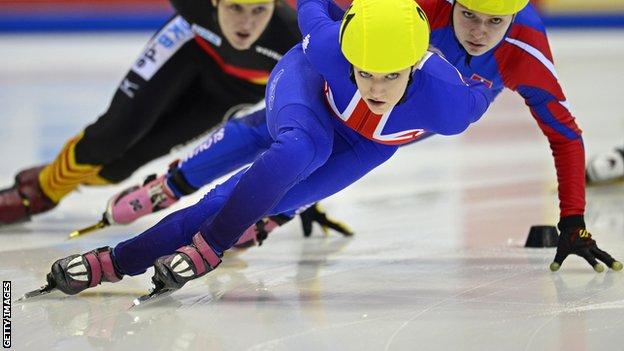 MAJOR EVENTS THIS WEEK
SKELETON: World Cup, Konigssee, Austria (24-25 Jan) - Lizzy Yarnold just needs to complete both runs to secure the World Cup title. The event also doubles as the European Championships.
ALPINE SKIING: World Cup men's: super combined & super-G (24 Jan), downhill (25 Jan), slalom (26 Jan), Kitzbuehel (Jan 25-26); World Cup women's: super-G (23 Jan & 26 Jan), downhill (24 & 25 Jan), Cortina d'Ampezzo, Italy (Jan 25-26): Weather-related rescheduling means it will be a busy couple of weeks for alpine skiers.
BOBSLEIGH: World Cup, Konigssee, Austria (25-26 Jan) - The last World Cup event of the season so a vital chance to get some momentum leading into Sochi. The event also doubles as the European Championships.
FREESTYLE SKIING & SNOWBOARD: The Winter X Games, Aspen, Colorado (22-26 Jan): Skier James Woods and snowboarders Aimee Fuller, Zoe Gillings and Billy Morgan have all been invited to the showcase event of winter action sports. There's also World Cup freestyle skiing competition in Kreischberg, January 24-25
LUGE: World Cup, Sigulda, Latvia (25-26 Jan) - It's the last race of the World Cup season, which doubles as the European Championships. However, all four World Cup titles have been decided already, and Germany, which has again dominated the season, is resting its Olympic team for the event.
FIGURE SKATING: Four Continents Championships, Taipei (20-26 Jan): One of the big events of the figure skating season but with Sochi looming, most big names will not be competing this year.
LAST WEEK'S NEWS
Lizzy Yarnold all but sews up the skeleton World Cup title while Elise Christie retains her European short track 1000m title and cross country skier Andrew Musgrave enjoys an impressive victory in Norway.
SKELETON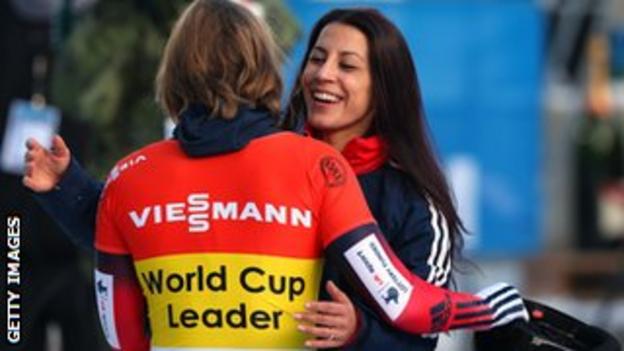 Britain's Lizzy Yarnold claimed her fourth skeleton World Cup gold of the season with victory in Igls, Austria.
The 25-year-old's seventh medal of the season eclipsed the previous record for a British slider, and she needs only to complete her two runs next weekend to claim the overall World Cup title for the season.
Her big rival - Noelle Pikus-Pace of the USA - was second, while world champion Shelley Rudman was fifth.
Latvia's Martins Dukurs won his fourth consecutive race in the men's competition, in which Ed Smith was the highest British finisher - coming 10th.
Britain have qualified two men and two women for the skeleton in Sochi. The team will be announced on Wednesday.
Yarnold and Rudman have assured themselves a spot but the selectors face a tough decision, balancing Smith's return to form against the claims of Dom Parsons and Kristan Bromley.
SHORT TRACK
Britain's Elise Christie retained her 1000m title at the European Championships in Dresden, the last major event before the Winter Olympics.
The Scot, who fell in the 500m, ceded her 1500m title after coming fourth behind Dutch skater Jorien ter Mors.
Wang Meng, China's most successful Winter Olympian, is likely to miss the Sochi Games after breaking an ankle in training.
Wang is a four-time Olympic gold medallist and would have been the favourite in the 500m, an event she has won at the previous two Games.
ALPINE SKIING
Teenager skier Mikaela Shiffrin confirmed her status as favourite for the women's slalom in Sochi with victory in the night race in Flachau, Austria. The 18-year-old American has now won three slalom races this season, and leads the World Cup standings in that discipline.
"It's nice to sing my national anthem a couple of races before the Olympics," said Shiffrin. "Hopefully I can sing it again in Sochi."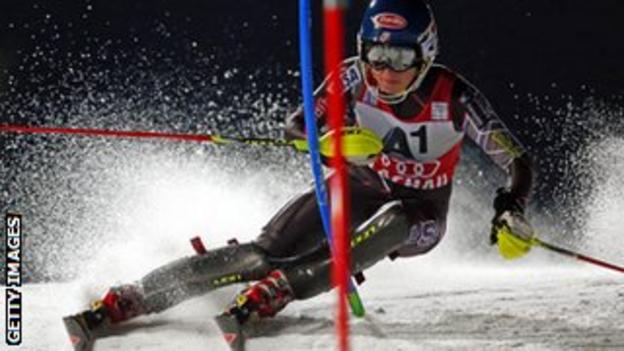 Meanwhile, Lindsey Vonn, whose absence through injury has thrust much of the American spotlight onto Shiffrin, has undergone knee surgery.
One star who should be in Sochi, however, is violinist Vanessa Mae, whose last-ditch effort to meet the qualifying standard appears to have been successful.
Mae, a keen skier since childhood, has been competing as Vanessa Vanakorn using her father's surname, and would represent Thailand.
The women's World Cup downhill in Cortina was cancelled due to too much snow, which could have repercussions for Chemmy Alcott's hopes of competing in a fourth Winter Olympics.
The 31-year-old Briton is returning from injury and needed to prove her race fitness by Sunday to be considered by selectors for the GB team, which is due to be announced on Wednesday.
Meanwhile, American Ted Ligety got back to winning ways in the super combined in Wengen while Swiss skier Patrick Kueng delighted the local crowd with victory in the downhill. Aksel Lund Svindal was third while Britain's Dougie Crawford skied out after a good top half of the course.
In the slalom, World Cup leader Marcel Hirscher of Austria finished third behind France's Alexis Pinturault and Germany's Felix Neureuther. Britain's Dave Ryding completed the first run but did not qualify for the second.
BOBSLEIGH
Great Britain will have two four-man sleds at the 2014 Winter Olympics after GB reserve pilot Lamin Deen steered GBR2 into the required top 20 in the world rankings at the World Cup event in Igls, Austria.
This means that Craig Pickering, who competed for Team GB at the 2008 Olympics before switching to bobsleigh in 2012, is now in line to become one of only a handful of British athletes to compete in both summer and winter Games.
Two American athletes, former world indoor hurdles champion Lolo Jones and sprinter Lauryn Williams, will also be adding a winter Games appearance to their summer ones after being picked for the USA bobsleigh team.
Deen's efforts in Austria have also secured Team GB a spot in the two-man competition, and Britain has also earned a place in the women's event in Sochi.
Jamaica could also once again have a bobsleigh team in Sochi.
SNOWBOARD
With the Olympic qualification window now closed, Team GB can begin working out how many spots it will have in Sochi next month. There will be two places in both the men's and women's slopestyle, with Billy Morgan and Jamie Nicholls set to be confirmed and Jenny Jones, Aimee Fuller and Katie Ormerod vying for two spots.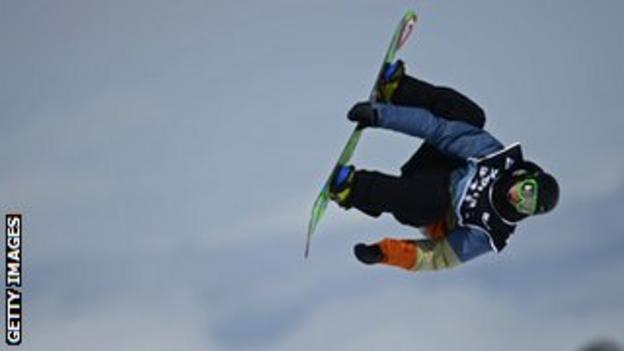 Ben Kilner and Dom Harington are expected to be awarded Britain's two spots in the men's halfpipe, while Zoe Gillings is in line to compete in her third Winter Olympics after GB earned a place in the women's snowboard cross.
The British team will be announced on Wednesday.
Meanwhile, slopestyler Morgan revealed last week that he has postponed knee surgery to compete in Sochi.
One man he will face at the Winter Olympics is American snowboard legend Shaun White, who has been selected to compete in both slopestyle and halfpipe.
In the weekend action, Kilner narrowly failed to make the halfpipe final at the World Cup event in Stoneham, Canada, finishing 14th with Harrington 16th.
Fuller and Nicholls enjoyed solid performance in the snowboard slopestyle finals, ranking fifth and sixth respectively.
FREESTYLE SKIING
British freestyle skier Katie Summerhayescame second in the slopestyle in the World Cup in Gstaad in only her second event since returning from a knee injury.
Anna Vincenti helped her selection chances by placing 11th, but will have to wait until Wednesday to find out if she has done enough.
CROSS-COUNTRY
British cross-country skier Andrew Musgrave stunned his Norwegian rivals by winning their national sprint freestyle race in Lillehammer.
The 23-year-old Scot beat a field packed with skiers fighting for places on Norway's world-leading Olympic team.
FIGURE SKATING
British ice dancers Penny Coomes and Nick Buckland earned one of the best results of their career with bronze at the European Championships in Budapest.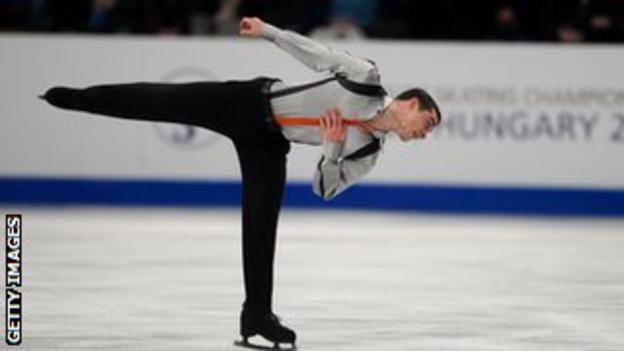 Spain's Javier Fernandez won gold in the men's event, in which Russian Maxim Kovtun was only fifth, possibly opening up the path for former Olympic champion Yevgeny Plushenko to get Russia's spot in the individual competition in Sochi.
Fifteen-year-old Yulia Lipnitskaya of Russia won the ladies' competition, with Great Britain's Jenna McCorkell 23rd.
Russian world champions Tatiana Volosozhar and Maxim Trankov won the pairs, with Britain's Stacey Kemp and David King in 13th.
CURLING
Britain's Eve Muirhead enjoyed a confidence boost ahead of Sochi with victory over Canadian skip Jennifer Jones at the Continental Cup in Las Vegas.
But the rest of the world team, which also included three-time Olympian David Murdoch, were well beaten by the best of north America.
"We underperformed this week," said Team World and Team GB curling coach David Hay.
LUGE
Germany clinched all four World Cup titles in Altenberg at the weekend, laying down an ominous marker for their rivals in Sochi.
Olympic champion Felix Loch won the men's, Natalie Geisenberger took the women's, Tobias Arlt and Tobias Wendl won the doubles with Germany also earning gold in the team relay event.
SKI JUMPING
Teenager Japanese ski jumper Sara Takanashi remains the favourite for Olympic gold after winning her eighth World Cup event of the season. Women's ski jumping will be making its Olympic debut in Sochi.
SPEED SKATING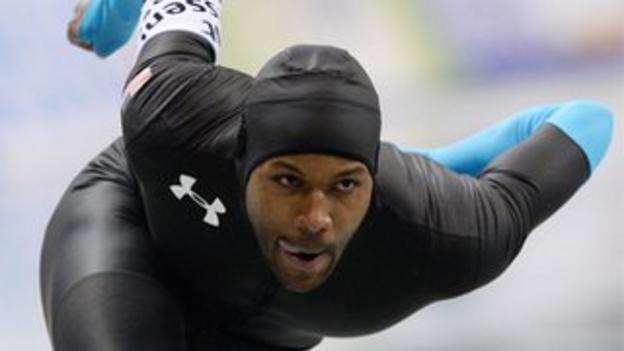 US star Shani Davis warmed up for Sochi by finishing second overall at the World Sprint Championships in Japan. The event, which is comprised of two 500m races and two 1000m races, was won by Dutchman Michel Mulders.
Davis finished first and second in the 1000m, which is his strongest event, suggesting the 31-year-old is in good shape to claim a third successive Olympic gold over the distance in Sochi.
China's Yu Jing won the women's title.
OTHER NEWS
Team GB have set a target of between three and seven medals at the Winter Olympics in Sochi, according to funding body UK Sport. Britain have not won three medals at a Winter Olympics since 1936 while their biggest haul was four at the 1924 Games.
Russian President Vladimir Putin said he will "show no fear to terrorists" as he outlined security measures ahead of the Winter Olympics in Sochi.
Last week, Mr Putin defended Russia's law on "gay propaganda" but insisted he was not prejudiced against homosexuals.