Sochi 2014: A beginner's guide to the cross country skiing events
Last updated on .From the section Winter Olympics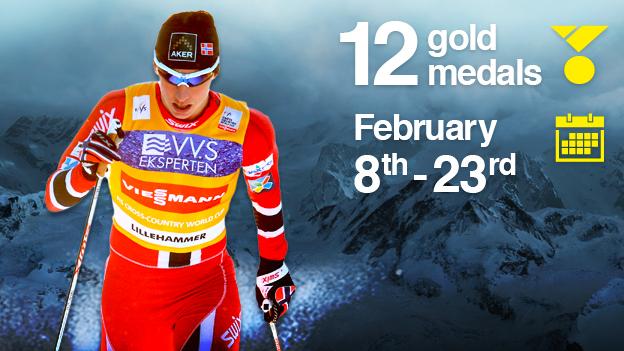 The sport in brief
Cross country is the oldest type of skiing, which emerged from the need to get around and hunt.
There are six Olympic Winter Games events each for men and women, with the goal simply to complete the distance as quickly as possible.
Two skiing techniques are used: classic, which involves skiing along pre-set parallel tracks, and freestyle, which closely resembles the motions of ice skating.
British prospects
Andrew Musgrave was the top Briton at the last winter Olympics in Vancouver in 2010 and he remains the leading light after an impressive season - including an eye-catching win in Norway's national sprint.
Global gold-getters
Norway's Marit Bjoergen won a Vancouver-high five medals (three gold) in 2010, a feat that Polish arch-rival Justyna Kowalczyk tried to undermine by claiming Bjoergen's asthma medication gave her an unfair advantage.
Another Norwegian, Petter Northug, won four Winter Olympics medals in 2010 and has amassed nine world titles since 2007.
What's new for Sochi 2014?
The newly-named skiathlon, in which competitors must use both the free and classic techniques, was previously known as the pursuit.
Qualification for the team sprint final has been modified: the top two in each semi-final plus six fastest losers now advance when previously it was the top three and four fastest losers.
Pub bore
Norwegian cross-country skier Bjorn Daehlie is the most decorated Winter Olympian, with eight gold and four silver medals.
Previous British medallists
Total: None
Highest position: 51st (Andrew Musgrave; 30km pursuit, 2010).