Sochi 2014: Jamaica bobsleigh poised to qualify but seek funding
By Nick Hope
BBC Olympic sports reporter
Last updated on .From the section Winter Olympics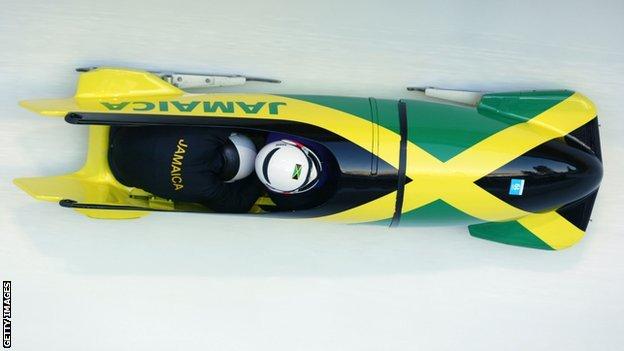 Jamaica bobsleigh pilot Winston Watt is convinced his nation will qualify for Sochi 2014 next week.
Thirty teams will take part and, although 39th in the rankings, Jamaica are one place away once nations with more than two qualifiers are removed.
The only team standing in Jamaica's way is the Dutch second team but they are likely to be withdrawn because they have not achieved the standard agreed with their national governing body.
Olympic qualification ends on Sunday.
Speculation Jamaica had already secured a berth followed a post on Twitter claiming to be from Jamaica's Olympic account.
It was further fuelled when the official Sochi 2014 account appeared to back it up, but it transpired the line-up will only be confirmed on Monday.
In reference to the 1993 film, based on the nation's Olympic debut in 1988, "#CoolRunnings" began trending on Twitter.
"I'm pretty confident," Watt told BBC Sport. "Both of my phones have been going off constantly."
Jamaica last qualified for the Winter Olympics at Salt Lake City in 2002 - missing both the 2006 Turin and 2010 Vancouver Games in a large part due to a lack of finance.
Their Sochi campaign was boosted by the return of driver Watt, 46, who competed in the 1994, 1998 and 2002 Olympics.
Watt also told the BBC that he has ploughed more than £100,000 of his own money into their qualification campaign.
"It's not been cheap," he said. "If we had been able to go over to Switzerland for the final qualification races, or some of the earlier ones, I'm convinced we would have confirmed this a lot sooner."
Watt, who is based in Wyoming, America, missed the entire European circuit as his resources could not stretch any further. He says he and brakeman Marvin Dixon will still need more financial help if they do qualify.
"We need about $40,000 [£25,000] for travel and also to buy new runners for the sled because we can't go to an Olympics with only one set," Watt said.
"Not having a team in the Olympics for so many years is sad and it's been eye-opening for the nation.
"Qualifying would mean so much to Jamaica and it would be making history again."
Britain's two-man bobsleigh team of pilot John Jackson and brakeman Joel Fearon have missed out on qualification.
The 2014 Winter Olympics in Sochi begins 7 February in Russia.