Violinist Vanessa Mae set to compete at Winter Olympics
By Ollie Williams
BBC Olympic sports reporter
Last updated on .From the section Winter Olympics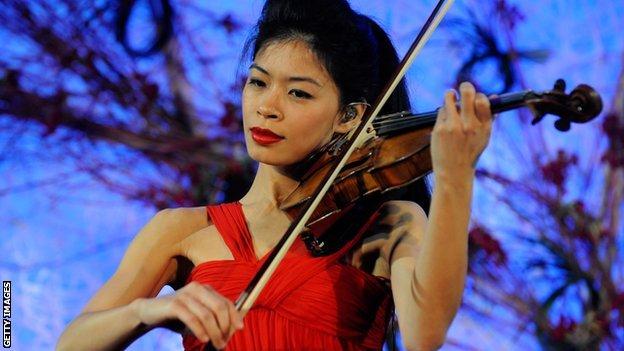 Violinist Vanessa Mae is set to ski for Thailand at the Sochi 2014 Winter Olympics, which start next month.
Mae, a keen skier since childhood, has been competing as Vanessa Vanakorn using her father's surname.
She raced four times in Slovenia at the weekend in a last-ditch bid to meet the qualifying standard.
Manager Giles Holland, speaking on behalf of Mae, told the BBC: "It would appear that she's done it. She's done it by a whisker, but she's done it."
Skiing's world governing body FIS has confirmed the eligibility of Vanessa Mae to compete at Sochi 2014.
"Vanessa Mae has unofficially qualified for the Olympic Games, " added Marko Rudolf, a Slovenian masters skier with links to the committee that organised the races.
Under current Olympic qualification rules, countries with no skier ranked in the world's top 500 may send one man and one woman to the Games - to compete in slalom and giant slalom - if those athletes meet a second set of criteria.
Thailand has no skiers ranked in the world's top 500 for any Alpine discipline. To meet the second criteria, Mae had to produce an average of 140 points or fewer over five recognised races.
Athletes earn points on an inverse scale based on their performance, so the fewer points an athlete has, the better they are.
In 1990, the International Olympic Committee brought in what became known as the 'Eddie the Eagle Rule', which requires Olympic hopefuls to place in the top 30%, or the top-50 of competitors, whichever is less, in international events.
The British Olympic Association has much stricter selection criteria and will only put forward athletes who achieved a top-30 place in the FIS World Cup standings during the qualification period, or they must meet other strict specifications.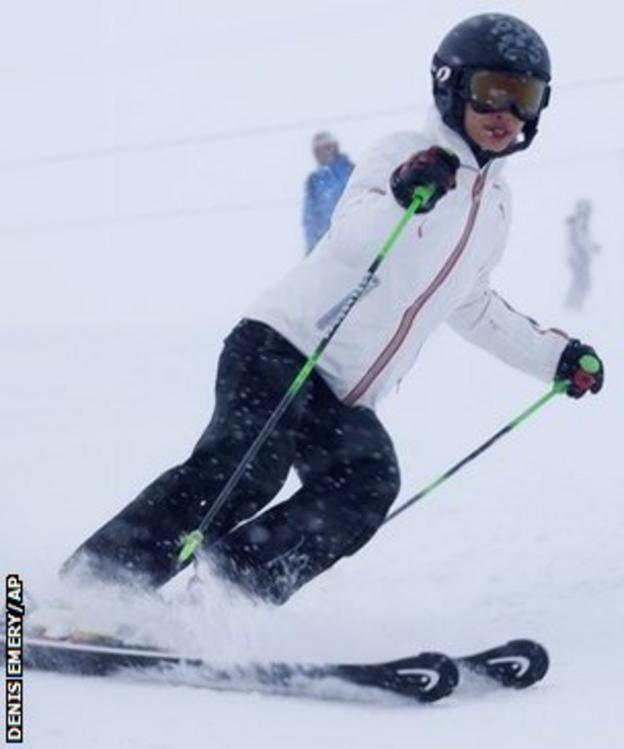 Mae's bid went down to the wire. Results on the official website of FIS show she dipped under the 140-mark average thanks to strong results in a series of four back-to-back giant slalom races in Slovenia on Saturday and Sunday.
The 5ft 3in 35-year-old even raced in a national junior championships, in which she was more than 14 years older than any other entrant, as time ran out.
In the latest rankings, Mae is 3,166 in the world in giant slalom.
Mae has long harboured an ambition to compete at the Winter Olympics.
She announced her bid to qualify for Sochi 2014 as early as mid-2010, telling the Daily Telegraph: "It has been my dream and I am hoping people will accept I just want to give it my best.
"I am taking a plunge. I am British, but realistically there is no way I could represent my own country.
"Because my natural father is Thai, they have accepted me."
BBC presenter Graham Bell, who competed for Great Britain at five Winter Olympics, understands the logic of someone of Mae's standard being able to compete but believes the BOA is right to have its own stringent qualification rules.
"We should never lower our qualifying criteria," he said.
"The BOA have produced incredible teams in the summer Games over the last few years and we're sending the strongest team that we've had for a long time to the Winter Olympics.
"It's about getting representation for countries that aren't considered Winter Sports nations. They don't want the Winter Olympics to become too European and North American dominated.
"It's difficult to compare the standard but 17-year-olds in their first year of competition would be disappointed if they didn't score less than 140."