Sochi 2014: GB Bobsleigh secure two four-man Olympic spots
By Nick Hope
BBC Olympic sports reporter
Last updated on .From the section Winter Olympics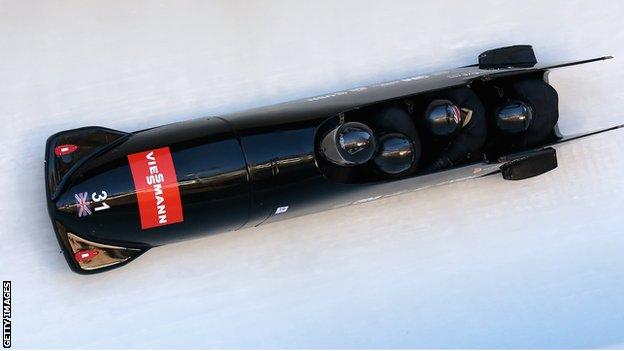 British bobsleigh reserve pilot Lamin Deen produced the drive of his career to secure Team GB a second four-man berth at the Sochi Olympics.
With lead pilot John Jackson's Olympic place already secured, his usual crew switched sleds to boost Deen's prospects at the Igls World Cup.
The tactical move paid dividends with Deen finishing 11th to move into the required top 20 in the world rankings.
"I'm really emotional, I'm overwhelmed. It means so much," Deen told BBC Sport.
"I was the VIP for the last 24 hours. All the physios, mechanics and crewmen just pulled together and focused on me, which really helped the team perform excellently today."
The GBR 2 team of Deen, Stuart Benson, Bruce Tasker and Joel Fearon crossed the line with a combined time of one minute 42.75 seconds.
It put them 0.53 seconds behind the winning Latvian sled piloted by Oskars Melbardis, with reigning Olympic champion Steven Holcomb of the United States in second and German Thomas Florschuetz third.
Former sprinter Craig Pickering, who competed for Team GB at the 2008 Beijing Olympics before switching to bobsleigh in late 2012, is now in line to become one of only a handful of British athletes to compete in both Summer and Winter Games.
He pushed alongside Jackson, John Baines and Ben Simons in GBR 1, who finished 20th.
"It was really difficult because it was completely out of my hands and I just had to watch and pray," Pickering told BBC Sport.
"About halfway down I thought [Deen] was going to do it if there weren't any mishaps and as he came over the line it was pure emotion.
"Being at the Olympics was the pinnacle of my life and to be able to go to another one would be fantastic."
The International Bobsleigh Federation (FIBT) confirmed that Lamin Deen's finish in the four-man competition has unlocked a berth for him in the two-man competition.
There were fears GB would miss out on a place after Jackson failed to secure a top-30 ranking in the final two-man World Cup event on Saturday.
"This shows the strength of our programme to qualify a two-man berth and it will allow Lamin extra time on the track [in Sochi] which can only help him in the four-man competition at the end of the Games," said GB Bobsleigh performance director Gary Anderson.
It was a bittersweet day for Jackson, 36, who felt his usual team would have challenged for a podium finish in Austria.
"It is mixed emotions because we were fastest in training the other day and have potentially had to sacrifice a medal," he said.
"It's great for Lamin though and we have two sleds in the Games now so it's good for Great Britain."
In the women's two-man competition, pilot Paula Walker and new brakeman Sarah Adams secured GB a berth in the event in Sochi.
They finished 14th in their first World Cup together in a combined time of 1:47.88, which was 1.6 seconds behind winners Jamie Greubel and Lauryn Williams from USA.
"Sarah did really well and we got to test out some new equipment which could be useful in Sochi, so overall I'm relatively happy," said Walker.
Adams added: "I wasn't as great at the start as I wanted but it was my first time with Paula and I enjoyed the experience. Hopefully I've given myself a chance of being selected for Sochi."
The Team GB bobsleigh line-up for the Sochi Winter Olympics will be revealed on Wednesday, with the Games beginning on 7 February.