Sochi 2014: Jamaica bobsleigh team qualify for Sochi
By Nick Hope
BBC Olympic sports reporter
Last updated on .From the section Winter Olympics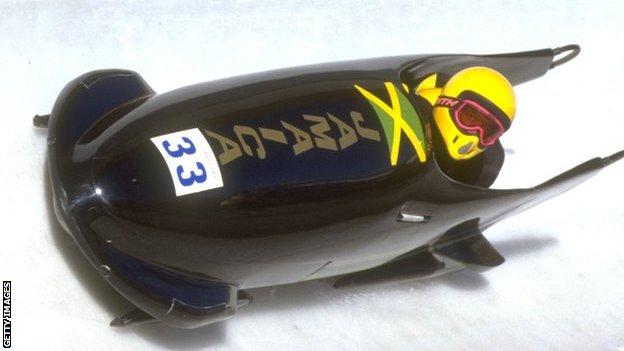 Jamaica's bobsleigh team will end their 12-year absence from the Winter Olympics next month after being awarded a place at the Sochi Games.
Driver Winston Watt and brakeman Marvin Dixon will compete in the two-man bob in Russia.
"It means the world to me," Watt, 46, told BBC Sport.
"I could not fall asleep last night just waiting to hear the news. I had a strong feeling we would get in but you never know."
Watt, who says he has spent £100,000 of his own money in an attempt to ensure qualification, added: "It means the world to Jamaica. We have dominated in summer sports like athletics and now we've qualified for the Winter Olympics."
Only 30 teams will compete in the men's two-man competition in Sochi and Jamaica's prospects of reaching the Games looked in jeopardy after Watts finished the qualification period on Sunday ranked 39th.
However, nine nations ahead of them were unable to take up the final Olympic berth as they had already qualified their maximum number of sleds - which resulted in Jamaica taking the final berth for the Games, which begin on 7 February.
Jamaica first qualified for the Winter Olympics in 1988 in Calgary, an achievement later portrayed in the 1993 Disney film "Cool Runnings", and last competed in the 2002 Winter Olympics in Salt Lake City.
Jamaica did not feature in the 2006 Turin and 2010 Vancouver Games, partly through a lack of finance, and Watt and Dixon have launched a funding appeal for Sochi from the general public.
The pair also hope that the Jamaican National Olympic Committee and the Sochi Olympic organisers will provide them with some financial assistance.
Great Britain bobsleigh performance director Gary Anderson says he is delighted to see Jamaica back in the Olympic line-up.
"I know how hard Winston works, he's a great athlete and ambassador for the sport," he told BBC Sport.
"It's great to have countries that aren't traditional alpine nations competing against the bigger nations in the sport."
Watt previously competed in the 1994, 1998 and 2002 Olympics, and returned to the sport in 2012 after a six-year retirement.