Sochi 2014: Chemmy Alcott in Team GB Winter Olympics squad
Last updated on .From the section Winter Olympics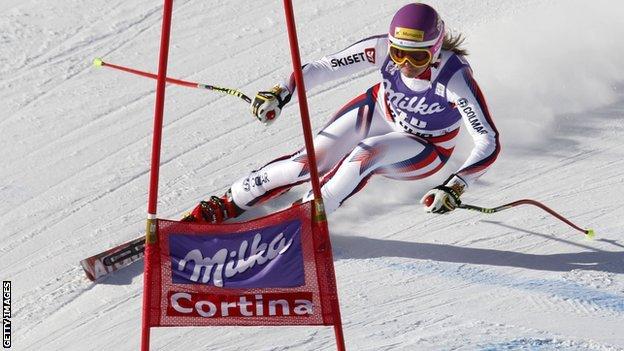 Three-time Winter Olympian Chemmy Alcott has been selected to represent Team GB at the Sochi Games despite being unable to prove her fitness.
Medal hopefuls James Woods and Katie Summerhayes are among a record number of 19 skiers and snowboarders included.
Funding body UK Sport says Team GB should win a minimum of three medals.
It also believes the squad is capable of winning as many as seven medals, which would beat GB's best tally of four at the Chamonix Games in 1924.
However, the team boasts no representative in the ski cross or luge disciplines.
As well as Woods and Summerhayes, skeleton's World Cup leader Lizzy Yarnold and world champion Shelley Rudman and the women's curling team carry GB's best hopes of medal success at the Games, which get under way on 7 February.
Speed skater Elise Christie is also a medal contender, while Eve Muirhead's curling rink are the current world champions and picked up silver medals at the European Championships in November.
According to some of its medal hopefuls, Great Britain's team is the strongest for decades.
Alcott was due to make her comeback in Italy last week, but poor weather saw the World Cup meeting cancelled, putting her place at the Games into doubt.
She became the first and only Briton to win a run in a World Cup race at the Soelden World Cup in 2008, and finished in 11th place in the Games at Turin in 2006 and again in Vancouver four years later.
Her selection alongside slalom skier Dave Ryding means there is no place for British downhill number one Dougie Crawford.
"Team GB hasn't taken a bigger contingent of skiers and snowboarders to an Olympic Winter Games for over two decades - since 1992 - so it is great to now have 19 of them heading out to Sochi with us shortly," said Team GB Chef de Mission Mike Hay.
"What makes it even more exciting is the fact that we are going into Sochi with a number of athletes with medal potential in events new to the Olympic Programme."
This year's skeleton representatives are Lizzy Yarnold, Shelley Rudman, Kristan Bromley and Dominic Parsons.
Skeleton gold for Amy Williams was the only medal won at the 2010 Games in Vancouver and Yarnold is aiming to repeat that feat.
"I have dreamed my whole life about becoming a British Olympian and for the last five years since I took up skeleton, competing at Sochi 2014 has been my primary focus," she said.
"This season has been great for my preparation. I am in a good place mentally and physically and I can't wait to get back on the Sochi track, go over the lines and maintain my focus.
"I don't take part in races to come second, so I will approach the Olympic Winter Games as I do every race and give it everything I've got."
Ski slopestyle athletes Woods, 22, and Summerhayes, 18, will be appearing at their first Winter Olympics as the discipline is included in the Games for the first time.
Summerhayes, described selection as a "dream come true", while Woods, who is expected to push for gold at the Games, said he was "incredibly proud".
Other events making their debut at Sochi include snowboard slopestyle, where Aimee Fuller will join Jenny Jones, Billy Morgan and Jamie Nicholls after a fifth place finish at the Snowboard Slopestyle World Cup last weekend secured her place.
Zoe Gillings will look to improve on 15th and eighth-place finishes in snowboard cross at the 2006 and 2010 Games. In snowboard halfpipe, Ben Kilner will go into his second Winter Games accompanied by team mate Dom Harington.
"Team GB are sending what I think will be their best and most successful Winter Olympics squad," said Kilner, who placed 18th in Vancouver 2010.

Rowan Cheshire admitted she was "a little nervous" after being selected for ski halfpipe, another new event at the Winter Games.
She will be joined by Emma Lonsdale, James Machon and Murray Buchan for the discipline, with ski and snowboard events expected to deliver at least one medal for the team in Russia.
Scotland's Andrew Musgrave will be the strongest medal hopeful of Britain's four cross country skiers after his victory at the Norwegian Championships earlier in the month.
"Four years ago, I was still very young," said Musgrave, who is joined by his sister Posy, Andrew Young and Callum Smith as Great Britain's cross country skiers.
"Going into Sochi, I feel like a much more mature and experienced athlete and I believe what I have learnt over the course of the last four years will help me perform to a much higher level."
Team GB has also confirmed the 10 men who will make up two bobsleigh crews that have qualified for the Games.
Former Olympic sprinter Craig Pickering is included as Great Britain seek their first Bobsleigh medal since 1998.
"Our mission was to head to Sochi as the best prepared physically, mentally and tactically and I think we are in good shape," said Gary Anderson, Team GB bobsleigh team leader.
The 19 skiers and 10 bobsleigh athletes announced on Wednesday will join those already selected for short track, curling, figure skating and biathlon.
Team GB squad
Alpine skiing: David Ryding, Chemmy Alcott Biathlon: Lee Jackson, Amanda Lightfoot Bobsleigh: Stuart Benson, John Jackson, John Baines, Ben Simons, Joel Fearon, Bruce Tasker, Craig Pickering, Lamin Deen, Paula Walker, Rebekah Wilson Cross country skiing: Andrew Young, Andrew Musgrave, Callum Smith, Rosamund Musgrave Curling: David Murdoch, Tom Brewster, Greg Drummond, Michael Goodfellow, Scott Andrews, Claire Hamilton, Eve Muirhead, Anna Sloan, Vicki Adams, Lauren Gray Figure skating: David King, Nick Buckland, Matthew Parr, Jenna McCorkell, Penny Coomes, Stacey Kemp Freestyle skiing: Murray Buchan, James Woods, James Machon, Emma Lonsdale, Katie Summerhayes, Rowan Cheshire Short track speed skating: Jon Eley, Richard Shoebridge, Jack Whelbourne, Elise Christie, Charlotte Gilmartin Skeleton: Lizzy Yarnold, Shelley Rudman, Kristan Bromley. Dominic Parsons Snowboarding: Ben Kilner, Billy Morgan, Dom Harington, Jamie Nicholls, Zoe Gillings, Jenny Jones, Aimee Fuller