Sochi 2014: A beginner's guide to the figure skating events
Last updated on .From the section Winter Olympics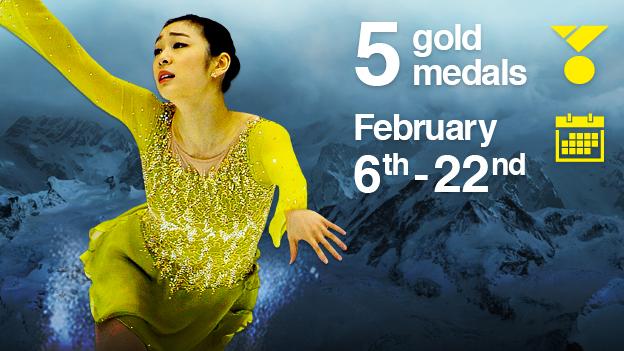 The sport in brief
The inclusion of a team competition for the first time means there are five events, all performed to music.
Each event comprises two segments: a short routine, in which skaters must perform set technical elements, and a longer, higher-scoring routine which allows more creative licence.
A panel of nine judges score on choreography and technical proficiency.
British prospects
Britain has a fine history of figure skating Olympic medallists - but the key word is history. There will be British involvement in all events in Sochi bar the men's, with a top-10 finish the official target.
Most likely to achieve that are European bronze medal-winning ice dancers Penny Coomes and Nick Buckland.
Global gold-getters
South Korean superstar and defending ladies' champion Yuna Kim should end her career in style, while three-time world champion Patrick Chan wants a first Olympic gold.
Russia has a proud figure skating tradition - Tatiana Volosozhar and Maxim Trankov could be their best hope of a gold.
What's new for Sochi 2014?
The team event makes its debut, and the ice dance has been streamlined from three routines to two.
Pub bore
Figure skating made its Olympic debut in 1908 - at the summer Games. Despite being a traditional winter sport, the International Olympic Committee approved its inclusion because it took place indoors.
It featured again in 1920 before making a permanent switch to the Winter Olympics in 1924.
Previous British medallists
Total: 15 (five gold, three silver, seven bronze)
Most recent gold: 1984; Jayne Torvill & Christopher Dean, ice dancing
Most recent medal: Bronze in 1994; Jayne Torvill & Christopher Dean, ice dancing