Sochi 2014: A beginner's guide to the freestyle skiing events
Last updated on .From the section Winter Olympics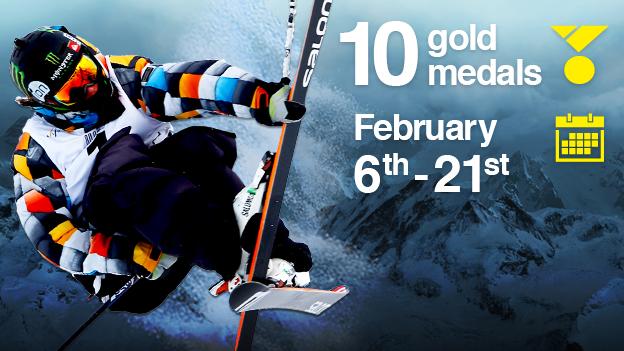 The sport in brief
Freestyle skiers jump as high as a six-storey building, and are judged in four of the sport's five disciplines on height, the acrobatic tricks they perform, and landings.
The anomaly is ski cross, a chaotic mad dash to the finish down a course loaded with jumps and bumps.
British prospects
World slopestyle silver medallist James Woods is a concrete medal hope.
Female counterpart Katie Summerhayes and halfpipe expert Rowan Cheshire have also appeared on global podiums in the last 12 months.
Global gold-getters
Canada's Alex Bilodeau, Hannah Kearney of the USA and Australian Dale Begg-Smith are all moguls specialists who are attempting to become freestyle skiing's first multiple Olympic champions.
Should none of them succeed, the honour could go to Australia's Lydia Lassila in the aerials later in the Games.
What's new for Sochi 2014?
Halfpipe and slopestyle have both been added to the programme for Sochi.
Pub bore
The British halfpipe and slopestyle skiers are nicknamed Fridge Kids by their global rivals because they learned the sport in indoor snow centres rather than on natural terrain outdoors.
Previous British medallists
Total: None
Highest position: 10th (Richard Cobbing; aerials, 1994)