Sochi 2014: A beginner's guide to the luge events
Last updated on .From the section Winter Olympics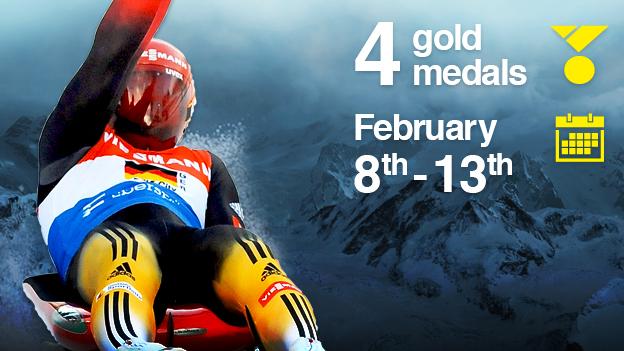 The sport in brief
Luge involves hurtling feet first down a track on a tiny open sled at speeds in excess of 80mph.
There are four runs in the men's and women's events, two runs in the doubles and one in the relay, with the lowest aggregate time winning.
Competitors steer using their legs and shoulders; the smallest mistake can prove costly - luge is the only one of the sliding sports that is timed to one thousandth of a second.
British prospects
In deep freeze. Despite success in fellow sliding sport skeleton, Britain is yet to make its mark on luge.
It's the first time since 1998 that Great Britain won't be represented in the event.
Global gold-getters
If you're a German luger at the Olympics, you're a good medal shot.
Felix Loch is defending his men's title, Natalie Geisenberger looks a dead cert in the women's - and the doubles team are strong so put your, ahem, haus on a German win in the new team event.
What's new for Sochi 2014?
The team relay, which looks like it will be an exciting addition to the Olympic programme.
Safety measures have been put in place following the death of Georgian luger Nodar Kumaritashvili during training at the 2010 Winter Olympics, so speeds at the Sochi track will not be as fast.
Pub bore
Thirty eight of the 39 gold medallists in Olympic luge history have been won by German speakers.
Previous British medallists
Total: None
Highest position: 14th (Derek Prentice & Christopher Dyason; doubles, 1980)