Sochi 2014: A beginner's guide to the nordic combined events
Last updated on .From the section Winter Olympics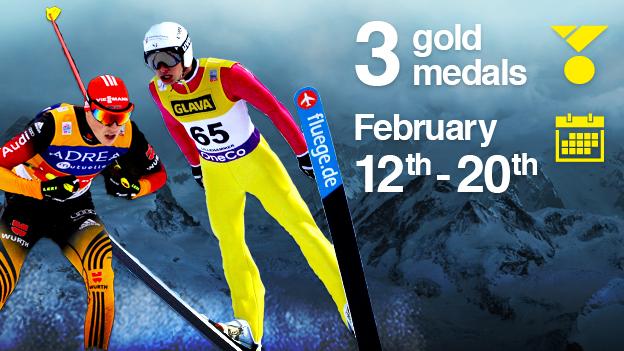 The sport in brief
Nordic Combined, the only male-only Winter Olympic sport, consists of ski jumping and cross-country skiing - in that order.
It requires a marriage of explosive power for the ski jumping, and endurance for the cross-country race.
The leader after the ski jumping is given a head start, with a time handicap for the other athletes based on how many points they finished behind.
British prospects
No British athlete has qualified.
Global gold-getters
Germany's Eric Frenzel and reigning normal hill champion Jason Lamy-Chappuis of France have dominated in recent seasons.
Norway have won three of the last four team gold medals, but failed to make the podium at the 2013 World Championships.
What's new for Sochi 2014?
Not much. The wind and gate compensation system makes its debut for the ski jumping phase - ironically in a sport where athletes leap down a mountain, the system is designed to make the competition a level playing field.
A complicated formula negates any advantages or disadvantages from wind changes or starting position. Disclaimer: Applicants without A-Level maths need not apply.
Pub bore
The RusSki Gorki Jumping Center that will host the ski jumping element of the nordic combined was named after the English slang term for someone of Russian nationality: a Russki.
Previous British medallists
Total: None
Highest position: 45th (Percy Legard, 1936)