Sochi 2014: A beginner's guide to short track speed skating
Last updated on .From the section Winter Olympics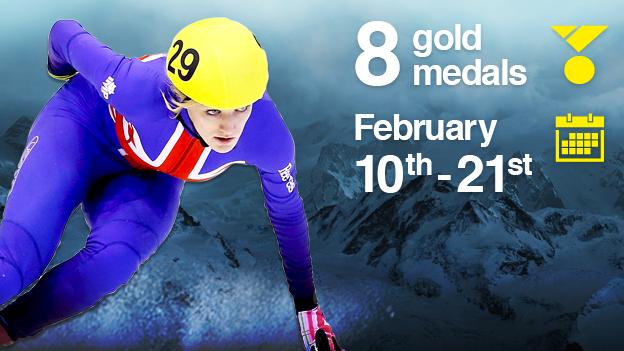 The sport in brief
Short track is one of the most exciting sports on the Winter Olympic programme, with wipeouts and crashes commonplace.
Skaters race in heats of either four or six around a tight oval track, with the fastest two or three qualifying for the next round.
Overtaking is allowed but there are strict rules on impeding opponents. Races are held over 500m, 1000m and 1500m, and there is also a men's and women's relay.
British prospects
Elise Christie is a live-wire medal prospect - her best event is the 1000m, in which she has won a world bronze and retained her European title in January.
The Scot could become the first British woman to win an Olympic short track medal.
Global gold-getters
Canada's Charles Hamelin will be in the medal mix as should Korea-born three-time champion Victor An, who now competes for Russia.
South Korea have found themselves a new star in teenager Shim Suk Hee.
What's new for Sochi 2014?
There are no major changes.
Pub bore
Great Britain's Wilf O'Reilly won two events the first time short track was held at a Winter Olympics in 1988 - but unfortunately it was only a demonstration event so no gold medals were awarded.
Previous British medallists
Total: One (bronze; Nicky Gooch, men's 500m, 1994)